India's Reform Gains Credibility
The government finally makes moves to recharge the economy
By and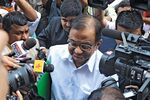 Pitching India is no longer a chore for Rajiv Anand, the chief executive of Axis Asset Management, a Mumbai-based money manager that oversees $1.9 billion. Until recently, Anand struggled to persuade would-be investors turned off by corruption scandals, political paralysis, and the slowing economy to give India a chance. A series of power failures in July that plunged hundreds of millions of Indians into darkness didn't help. Nor did warnings of impending downgrades to the country's credit rating, which stands just one notch above junk. "Trying to sell the India story just didn't resonate," Anand says. "Nobody wanted to hear it."
Then, starting in September, Prime Minister Manmohan Singh and his new team of economic advisers led by Finance Minister Palaniappan Chidambaram unveiled proposals to ease restrictions that bar foreign companies from operating freely in broadcasting, insurance, and other industries. To burnish the government's reformist credentials, Singh reshuffled his cabinet at the end of October, replacing about a third of his ministers. The moves have lifted the spirits of investors who have watched Asia's third-largest economy sputter. Growth was 5.5 percent in the second quarter, down from 8 percent in the same quarter last year. "We've regained some of that credibility," says Anand.
With the winter session of Parliament scheduled to begin on Nov. 22, Singh and Chidambaram must secure approval for many of their proposals, which won't be easy. Singh leads a minority coalition, and the main opposition party, the Bharatiya Janata Party, is already positioning itself for general elections, which are to be held no later than 2014. "We have to embrace change," said the 80-year-old Singh, addressing the tens of thousands of Indians that turned up for a Nov. 4 rally in New Delhi. "We have to leave the easy route and choose the difficult one because this is needed for the country's future."
Skeptics are watching Singh closely. Last year the prime minister announced plans to allow foreign retailers such as Wal-Mart Stores and Tesco to open stores in India, only to retreat in the face of opposition from coalition members. Progress has also faltered on the government's goal of containing the fiscal deficit to 5.1 percent gross domestic product for the fiscal year ending March 31, 2013.
The ratings companies are reserving judgment. Art Woo, director of Asia sovereign ratings with Fitch Ratings, says that while he is impressed by Singh's proposals, "ultimately it comes to execution." Takahira Ogawa, Woo's counterpart at Standard & Poor's in Singapore, wants the government to be more aggressive in cutting subsidies for food and fuel, which contribute to a deficit, expected to hit about 6 percent of GDP for the current fiscal year. "The government needs to reduce the size of expenditures," says Ogawa, "but there's no concrete plan."
Reserve Bank of India Governor Duvvuri Subbarao has also adopted a wait-and-see stance. The central banker ratcheted up interest rates 13 times in 2010 and 2011 to combat inflation, but the battle isn't over. Inflation quickened to 7.8 percent in September, the highest in the BRIC club of emerging markets. "The government has moved very firmly, very decisively," Subbarao said on Nov. 1. Even so, he resisted pressure to reward it with a rate cut at the central bank's most recent monthly meeting on Oct. 30.
Ford, along with other multinationals, is hopeful that Singh's revamped team is on the right track. "We like what we have seen," says Michael Boneham, Ford's president for India. Though its sales in India have been flat this year, the automaker is plowing $1 billion into a new factory in the western state of Gujarat. Chinese telecom equipment maker Huawei Technologies has sharply scaled back its 2012 India growth projections, according to spokesman Scott Sykes, but expects demand to pick up in 2013, because the government is starting work on a 200 billion rupee ($3.7 billion) national broadband network. Computer maker Lenovo recently announced plans to start selling smartphones there and hopes the new reforms lead to a revival in PC demand. "The government has initiated the right set of steps," says Amar Babu, managing director of Lenovo India.
There's even reason to be optimistic about India's notoriously dysfunctional political system. The opposition parties that have stymied many of Singh's reforms in the past might be willing to endorse relatively uncontroversial proposals such as opening the insurance and pension management industries to foreign players, says Nigel Singh, a South Asia analyst at Control Risks. Chidambaram is also talking with local leaders about replacing the current patchwork of state taxes with a national consumption tax—a move that might help stanch India's red ink. "That's a big, big reform," says Control Risk's Singh. "If Chidambaram manages to do that, he'll be seen as a complete hero."
BOTTOM LINE -
The bottom line: A new finance minister and a cabinet reshuffle may pave the way for reforms that would benefit multinationals.
Before it's here, it's on the Bloomberg Terminal.
LEARN MORE