Hu's Goal for China: Double Incomes by 2020
By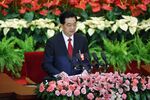 Hu Jintao, China's soon-to-retire party secretary, delivered the opening address of the week-long Party Congress on Nov. 8 before some 2,300 delegates in the cavernous Great Hall of the People in Beijing's Tiananmen Square. The once-every-five-years political meeting, China's 18th, will culminate with the unveiling of the country's next leaders, almost certain to be headed by Xi Jinping, with Li Keqiang in charge of the economy. The ultimate identities and roles of the others, and even the number—seven or nine—who will run China through its membership in the elite Politburo Standing Committee, is still unclear.
Hu's 90-minute political report summed up China's past achievements and highlighted challenges ahead, and hit all the expected notes. It also was an obvious attempt to boost his political legacy. Hu said the growing gaps between rich and poor and city and countryside, an excessive reliance on investment rather than individual consumption, and surging environmental problems and wasteful energy use all must be addressed through more balanced development, a guiding philosophy he has coined the "Scientific Outlook on Development."
Hu stressed the importance of striking "a balance between the role of the government and that of the market," an issue of growing importance as the influence of China's state sector has surged in power in recent years. And he set a new growth target for China. "On the basis of making China's development much more balanced, coordinated, and sustainable, we should double its 2010 GDP and per capita income for both urban and rural residents [by 2020]," said Hu. China's per capita income for those who live in cities now stands at 21,810 yuan ($3,493), and for those in the countryside it's 6,977 yuan ($1,118). Worldwide, China ranked 121st in gross national per capita income in 2010, according to the World Bank, with about one-tenth the income of the U.S., which was 18th.
The outgoing party secretary and president also spoke of the enormous challenge that growing corruption presents for China. The downfall earlier this year of former Chongqing Party Secretary Bo Xilai amid allegations of corruption, as well as more recent reports from the New York Times and Bloomberg News on the fortunes of the extended families of top leaders, including Premier Wen Jiabao and Xi, have heightened concerns about income inequality and growing graft.
"Combating corruption and promoting political integrity, which is a major political issue of great concern to the people, is a clear-cut and long-term political commitment of the party. If we fail to handle this issue well, it could prove fatal to the party, and even cause the collapse of the party and the fall of the state," warned Hu. "Leading officials at all levels, especially high-ranking officials, must readily observe the code of conduct on clean governance. They should both exercise strict self-discipline and strengthen education and supervision over their families and their staff, and they should never seek any privilege."
One way to fight against corruption and improve overall governance is to expand "intra-party democracy," or efforts to make the Communist Party more accountable to the Chinese people and more transparent in its decision-making, another theme that was stressed in the political report. That includes introducing a more meritocratic system where party officials are promoted more based on their job performance, rather than the internal politicking and connections that determine promotion today. But don't expect political reform to eventually lead to direct elections under a multiparty system. "We will never copy a Western political system," said Hu.
"Everything has to be achieved and conducted under the Communist Party leadership. They don't want to change [that], " says Jean-Pierre Cabestan, director of government and international studies at Hong Kong Baptist University in Hong Kong. "It was a very conservative speech aimed at mending the party's image within society, to recover some legitimacy after all the [problems and] scandals of the year. That is why the speech took great lengths to address social issues, the need to change the economic model, and political reform and legal issues, such as how to address corruption."
Before it's here, it's on the Bloomberg Terminal.
LEARN MORE