Feedback
Letters on global warming, Anheuser-Busch InBev, and Bloomberg Businessweek's Election Issue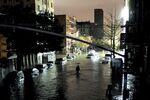 Hot and Bothered
Thanks for your thoughtful discussion of how man-made climate change cranked up Hurricane Sandy's power and destructiveness ("It's Global Warming, Stupid," Opening Remarks, Nov. 5-Nov. 11). But America already has a law that could be a potent weapon against the greenhouse gas pollution fueling extreme weather.
The Clean Air Act has protected the air we breathe for 40 years, and courts have repeatedly backed its application to greenhouse gases. But the Environmental Protection Agency has been excruciatingly slow to use the law against carbon pollution. Airplanes' massive greenhouse gas emissions, for example, are still completely unregulated.
We're running out of time to prevent a climate catastrophe. The Clean Air Act represents our best chance for swift action to ward off a future full of Frankenstorms.
 
Kassie Siegel
Director, Climate Law Institute
Center for Biological Diversity
Joshua Tree, Calif.
 
Paul M. Barrett should tell us what the mean global temperature should be. Also, why was ice melt in the Arctic significantly greater than in the Antarctic last summer? Should not the melting have been equal?
 
Ed McClelland
Richardson, Tex.
 
Controversy Brewing
As a fifth-generation brewmaster, three generations at Anheuser-Busch, I am very disappointed by "The Plot to Destroy America's Beer" (Features, Oct. 29-Nov. 4).
On behalf of my more than 100,000 colleagues around the world, I can tell you nothing is more important to us than the quality of our beers and the ingredients that go into them. We would never "tinker" (as you suggest) with the recipe of Budweiser (or Beck's), and any suggestion that we are doing so is simply not true.
We have the best-trained and most qualified brewmasters in the business. Our commitment to quality and strictly maintaining the distinct taste profile of each of our beers is, and always has been, our No. 1 priority. Just like my father before me, I personally taste our beer samples on a daily basis to ensure quality and consistency.
We are deeply committed to providing consumers the highest-quality products and never compromise on ingredients, or the care and craftsmanship that go into brewing our portfolio of leading beer brands.
We have also continued to significantly invest behind our brands, especially in Budweiser, a point lost in your piece, among many others. Budweiser global volumes increased 3.1 percent in 2011, following a 1.7 percent increase in 2010. The growth trend continues with sales up 6.2 percent in the first half of 2012.
I am also surprised that your reporter turned down our invitation to visit us in St. Louis at our flagship brewery prior to writing the piece, to see firsthand the care and exacting standards in our brewing. My colleagues and I are very proud of our beers and welcome visitors from all over the world to our five brewery tour centers.
 
Peter Kraemer
Head of North American Brewery Operations
Anheuser-Busch InBev
St. Louis
 
Thanks for your recent in-depth article about AB InBev. Being a longtime Budweiser drinker, I was appalled at the direction the AB InBev management has taken with regards to the Budweiser brand. Being a business school grad, I perfectly understand that companies want to maximize profits, but not at the expense of their Cadillac brand.
Shame on them for their greed and shortsighted actions. I will need to find another beer that is managed by folks who appreciate brand and customer loyalty more. Tell AB InBev to sell Budweiser to someone who will care about the brand more and not try to squeeze the last few dollars out of an icon.
 
Jim Guernsey
Twinsburg, Ohio
 
A Vote in Our Favor
I have just returned from two weeks in the U.S. and read your Election Issue (Oct. 15-Oct. 21). While in the U.S. I found the media reporting of the election very superficial and almost 100 percent spin or negative campaigning. I could see no valid information for the U.S. electorate to make an informed decision as to whom to vote for.
Your issue is the exact opposite of what I received from the regular media while in the U.S.: an in-depth analysis of what has happened in the last four years. My congratulations on an excellent piece of journalism.
John Wales
Cumbria, U.K.
Before it's here, it's on the Bloomberg Terminal.
LEARN MORE