Europe's Price Vengeance on Gazprom
Gazprom customers are winning big discounts
by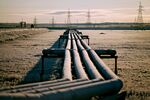 From the Baltics to the Mediterranean, Russia's Gazprom has long been the dominant supplier of natural gas to heat homes, run factories, and generate electricity. Even if its European customers grumbled about high prices, they didn't do it too loudly: Gazprom could cut them off, as Ukraine learned during its price disputes with the company between 2005 and 2010.
A global production boom led by U.S. shale gas has turned the tables. While the U.S. is now awash in cheap gas, Gazprom's European customers pay about three times the U.S. price. European utilities are demanding—and winning—price concessions that are clobbering Gazprom's bottom line. On Nov. 2, the company reported second-quarter profits down 50 percent, as discounts to clients reached $4.25 billion so far this year.

As recently as a decade ago, Gazprom accounted for almost half of Europe's gas imports. That figure has since fallen to about 33 percent, as customers switched to Norwegian or Algerian gas—and, more recently, to imported American coal, which has become plentiful because U.S. utilities are burning cheap gas instead. Even Vladimir Putin has acknowledged something has to change. Gazprom, he said at an energy meeting near Moscow on Oct. 23, must "find new, mutually acceptable forms of cooperation to be closer to the end users."
Europe is Gazprom's biggest customer, paying it $57 billion last year—almost 40 percent of revenues. Russian plans for a pipeline to China have stalled over pricing disagreements, and the Chinese have started importing gas from Central Asia and developing their own shale gas.
Gazprom on Oct. 29 said it would invest $45 billion to produce and ship natural gas from eastern Siberia to Asia via a liquefied natural gas plant in the port of Vladivostok. "The prospects are very big," said Gazprom Chief Executive Alexey Miller, a Putin ally who has headed the company since 2001. Those projects will take years to finish. Meanwhile, the outlook for Gazprom's finances is "alarming," VTB Capital analysts in Moscow said in a Nov. 1 research note.
Most of Gazprom's European contracts are linked to the price of oil, which roughly doubled over the past four years. Customers such as German utility E.ON now lose nearly €12 per megawatt hour when they burn gas, according to Bloomberg estimates. If they switch to coal, they make a profit of nearly €12. U.S. coal exports to Europe jumped 31.5 percent this year. Despite environmental risks, "commercial realities force companies to do that," says Walter Boltz, vice chairman of the European Union's Agency for the Cooperation of Energy Regulators.
To appease big customers in Western Europe, Gazprom has offered discounts of as much as 10 percent. That angers the Eastern Europeans, who are locked into Soviet-era pipelines and lack alternative sources to use as bargaining chips. "We suffer a quite significant price difference compared to our Western competitors," says Gérard Bourland, chief executive of utility Dalkia Energia in Budapest.
Utilities in the East are now taking Gazprom into court or arbitration. Gazprom this month settled an arbitration case filed by Polish utility PGNiG by agreeing to rebates of up to $930 million. Two weeks earlier, Gazprom lost a case filed by RWE Transgas, the Czech subsidiary of German utility RWE. Gazprom says it may appeal that ruling, which RWE said would save it hundreds of millions of euros annually.
EU regulators in September opened an antitrust investigation, saying Gazprom may have hindered East European customers from finding other suppliers. Gazprom disputes that. The investigation "can be viewed as pressure from the European Commission on Gazprom with the aim of influencing prices and the results of commercial negotiations," Gazprom spokesman Sergey Kupriyanov says. Gazprom still controls 18 percent of global gas reserves and has the Kremlin's backing. But, says Pierre Noël, director of the Energy Policy Forum at Cambridge University, "the EU-Russia relationship is changing, and there is no possibility of going back."
Before it's here, it's on the Bloomberg Terminal.
LEARN MORE