Dubai's Illusory Real Estate Rebound
Flashy new projects belie the market's overall weakness
by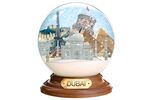 In the past few weeks, several high-profile Dubai construction projects on hold since the global financial meltdown of 2008 have been revived. Among the eye-catchers: a skyscraper with nine swimming pools, a mile-long canal winding its way around office buildings, and a replica of the Taj Mahal a mere four times bigger than the original.
The surrounding buzz doesn't make up for the still-depressed condition of the broader real estate market in this emirate, one of the seven that comprise the United Arab Emirates. Dubai saw property values fall by as much as 65 percent during its four-year slump. About a quarter of the emirate's residential properties are empty, even while an additional 25,000 are due to be completed next year as developers fulfill contracts awarded before the crash, property broker Jones Lang LaSalle estimates.
The commercial property market isn't much better: About a third of the office space in the central business district is unoccupied, and the vacancy rate is much higher in other neighborhoods. New developments will add about 9.7 million square feet next year, equal to 13 percent of the existing space in Dubai's business quarter. "The market has improved to some extent, but there isn't enough to justify going ahead with all the projects that are now being talked about," says Craig Plumb, Jones Lang's head of research for the Middle East and North Africa. "They should be phased over a longer period and should be built in line with demand."
Since 2008, $757 billion worth of projects have been delayed or shelved in the U.A.E., according to an October Citigroup report. That's more than the combined value of projects canceled in Egypt, Iraq, Kuwait, Saudi Arabia, and Qatar. Some developers continue holding on to clients' cash as projects remain half-built and court disputes drag on.
Even so, Dubai's real estate market is showing signs of recovery. The number of property transactions in the emirate jumped 50 percent in the first half of 2012 compared with a year earlier, data from the Dubai Land Department show. Still, the total purchase value, 12 billion dirhams ($3.2 billion), was 74 percent less than the 46.5 billion dirhams of sales in the first half of 2008. Prices of residential properties in the best locations, such as the downtown area and the marina, have risen about 15 percent this year.
Collections of prime single-family homes known as villa communities, which account for about 20 percent of the homes on the market, are in higher demand than other types of residences, says Amer Khan, a fund manager at the asset-management division of Shuaa Capital. "This demand is very different from what we saw four years ago," Khan said. "This time it's a lot more selective."
The increased demand is mostly from Indian, Pakistani, and Iranian investors drawn to the relative stability of Dubai since the euro crisis and the Arab Spring, says Jan Pawel Hasman, an analyst at investment bank EFG-Hermes Holding in Cairo. Saud Masud, chief executive officer of New York-based investment firm SM Advisory Group, says the upswing isn't sustainable without steady population and job growth. "The oversupply issue will probably not be resolved for perhaps another decade," Masud says.
Tightening credit may limit oversupply, says Dubai-based EFG-Hermes analyst Shabbir Malik, noting that lending to developers rose just 3 percent in the first quarter from the same period last year. New government restrictions on banking liquidity set to go into effect next year are also likely to hinder lending, Malik says.
Dubai builders have deferred some dreams, but not all. The oversized Taj Mahal, dubbed Taj Arabia, was designed as part of the Falconcity of Wonders, a 41 million-sq.-ft. complex of homes, offices, hotels, and stores, along with replicas of the Pyramids, the Great Wall of China, the Eiffel Tower, and the Leaning Tower of Pisa. While the rest of Falconcity remains shelved, developer Link Global says the Taj Arabia, slated to include a 300-room luxury hotel, will cost about 1.3 billion dirhams and take two years to build. Chairman Arun Mehra declined to say how the company will pay for it.
Before it's here, it's on the Bloomberg Terminal.
LEARN MORE