Bid & Ask: The Deals of the Week
Noteworthy expenditures of the week
by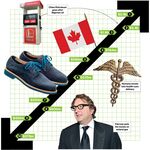 1. Malaysia's No. 1 oil and gas services company, SapuraKencana Petroleum, is buying oil rig operations from Norwegian deepwater drilling company Seadrill for $2.9 billion.
2. Seeking to reverse a decline in its oil reserves, China Petroleum & Chemical signed a preliminary deal with Total to purchase stakes in Nigerian onshore oil properties for about $2.4 billion, say two people familiar with the deal.
3. RedPrairie, backed by private equity firm New Mountain Capital, will acquire JDA Software Group for $1.9 billion in a deal that will merge the two providers of corporate supply chain management software.
4. Canada's Crescent Point Energy will pay $784 million for Ute Energy Upstream Holdings, which is 51 percent-owned by the Ute Indian Tribe.
5. U.K. insurer Prudential is buying the life insurance business of Thanachart Bank for as much as $590 million.
6. St. Louis-based Stifel Financial will acquire KBW, the broker-dealer and investment bank, in a cash-and-stock transaction valued at $575 million.
7. Nike is in final negotiations to sell its Cole Haan fashion brand to Apax Partners for about $500 million, according to a person familiar with the talks.
8. Private Medicare insurer Humana will buy health-care company Metropolitan Health Networks for about $500 million, as the company expands beyond paying claims into delivering care.
9. Inergy Midstream is paying $425 million for closely held Rangeland Energy in a deal that will give the company, based in Kansas City, Mo., access to North Dakota's fast-growing Bakken field.
10. Hedge fund manager Philip Falcone's Harbinger Group is buying a stake in U.S. natural gas fields from Exco Resources for $373 million, betting on a rebound for the fuel.
Before it's here, it's on the Bloomberg Terminal.
LEARN MORE