Trump: 'No Regrets' Over Twitter Meltdown
By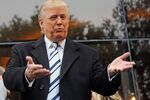 You've no doubt heard by now that Tuesday night on Twitter, Donald Trump called the re-election of Barack Obama a travesty, a total sham, a disgusting injustice. He also urged Americans to march on Washington. Earlier, he warned people to make sure their votes weren't stolen, and he described global warming as "a concept created by and for the Chinese to make U.S. manufacturing non-competitive."
On Wednesday, he took on NBC News anchor Brian Williams, who said on air: "Donald Trump, who has driven well past the last exit to relevance and veered into something closer to irresponsible here, is tweeting tonight."
A sampling of Trump's taunting comments so far makes for some exciting reading. There's this: "Brian, if I'm 'well past the last exit to relevance' how come you spent so much time reading my tweets last night?" And this: "Brian—Thanks dummy—I picked up 70,000 twitter followers yesterday alone. Cable News just passed you in the ratings." And this: "Wouldn't you love to have my ratings?" An NBC spokeswoman had no immediate comment on Trump's tweets.
Which brings us to the main point about Trump: He's always the main point. I reached him by phone this morning at his Manhattan office to see what the response had been and if he had any particular concern about his relationship with Macy's, where he's had an exclusive deal to sell ties, shirts, suits, and cufflinks since 2005. Some of those items are now 30 percent off on Macy's website.
"The fact is that there's a large group of people who like Donald Trump and what Donald Trump says," says Donald Trump. "I have no regrets." He has deleted some of his tweets, though. He says that's because he was reacting when it seemed that Obama had won the Electoral College vote but not the popular vote. That's right around the time that Republican strategist Karl Rove, on Fox News, began challenging Fox's decision to call the election for Obama.
"I've been well-received," Trump says. "I will have way over 2 million Twitter followers shortly." At last count, he had 1,850,011. How many of those are in it for the sheer spectacle? Who knows? Retweets are not endorsements.
As for Macy's, Trump is not worried about an online petition asking the retailer to sever its relationship with him. "As of late, Donald Trump has engaged in especially unpleasant, nasty and despicable behavior," it states. "So act, and dump Trump." So far, 1,568 people have signed on. (Update: As of 1:15 p.m. ET on Nov. 12, the petition shows more than 388,000 signatures.)
"We're one of the hottest brands at Macy's," says Trump. "One of the reasons it's so hot is that they're great ties." And the other is that "there is a large group of people who believe in what I say. The fact is the response [at Macy's] will be the opposite," of a problem, he says.
A few minutes later, I received a call from Cathy Glosser, executive vice president for global licensing at Trump Organization. "We do millions and millions of dollars of sales every year at Macy's," she says. "We're extremely successful. They've been great to us and we've been great to them." Macy's did not respond to requests for comment.
Meanwhile, Trump's All-Star Celebrity Apprentice, the 13th season in the series, began filming last month. It's scheduled to air in March 2013 on NBC.
And Trump, by mid-day, seemed to be taking a different approach. "This was the Republicans' election to win but they just blew it—reasons why to follow," reads one tweet. And: "Our country is totally split right now but someday it will come together!"
Before it's here, it's on the Bloomberg Terminal.
LEARN MORE