Welcome to My Living Room, Thank You for Spinning
By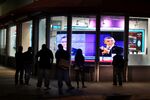 If it weren't already the name of a novel and subsequent movie, "Extremely Loud and Incredibly Close" would be a great slogan to paint on a banner, celebrating TV news coverage on election night. Every four years the stakes run high—and the volume runs even higher.
Often tense, sometimes shouty, TV news coverage on the night of a presidential election is a thing of teeth-grinding beauty. Like peanut butter and chocolate, it offers an improbably delicious counterbalance of flavors: tiptoeing caution ("still too close to call") and lurching, mad speculation (insert your own Dick Morris joke here).
In 2008, some 71 million turned to cable and broadcast TV to watch the results of the presidential election, according to Nielsen. They not only got to watch history in the making, but they also got to see some crazy, reportorial holograms on CNN. The key is to not think too hard about questions of journalistic value. Just sit back and enjoy the spectacle.
For the rest of the night, I'll be flipping back and forth between TV networks and updating this post with observations on the best and worst moments of the coverage.
Yes, there will be some predictable moments. CNN will definitely pack more pundits into its studio than aphids on an infected leaf. Chuck Todd will certainly flaunt his goatee. And there's a 37.89 percent probability that at least one out of every two reporters born in an odd-number year will make a reference to Nate Silver within the first five to seven minutes of being on the air.
In short, expect lots of bewildering numbers to be tossed around authoritatively.
There will also be moments of genuine surprise. The joy of watching high-pressure, live TV is that you never quite know when it will go off the rails in some new and memorable fashion.
Can you feel the thrill running up your leg?
Game on.
Election Night Stagecraft: NBC vs. ABC (7:41)
The battle for election-night stagecraft supremacy is currently playing out on the streets of New York City.
Just as they did four years ago, NBC News has taken over the heart of Rockefeller Center, turning the skating rink into an electoral map, and the outside of 30 Rock into a kind of giant, vertical scoreboard.
ABC News is not backing down.
Diane Sawyer, George Stephanopoulos and the rest of the team are currently set up in a studio overlooking Times Square.  Early in the night, they are playing up their location, big-time.
The network has positioned correspondent Josh Elliot outside, on the street in Times Square.
If there's a risk that viewers might just see him as a guy with a microphone standing in front of a Toys R Us, Elliot has been quick to explain that Times Square on election night is about so, so, much more.
"This might be the most social of media," Elliot said a few minutes ago. "It is social media incarnate. It is where America will gather tonight."
As if that weren't enough, Elliot told viewers that earlier in the day, he'd seen Big Bird and Elmo walking around Times Square.
Early advantage: NBC.
Desperately Seeking Holograms, Finding Gore (8:13)
When a TV news executive departs for a new network, some of his favorite correspondents often follow. This raises one of the huge questions looming over election night, 2012: Does the same pattern apply to holograms?
In 2008, CNN's then- Washington bureau chief David Bohrman made quite the splash by deploying holograms of correspondents throughout CNN's election night coverage.
Last year, Bohrman left CNN to preside over Current TV's nascent, left-learning news outlet. So did he secretly take the hologram correspondent things with him?
It took me a while, but I just found Current TV (channel 103 on Time Warner in New York).
And…I don't see any holograms.
But I do see Al Gore. In the flesh. No beard.  Valiantly making jokes about elections that go on for 36 days. "This is for all the marbles," says Gore.
Not bad. But I want holograms.
CNN Unleashes the Ballot Cam: (9:00)
Whatever else happens tonight, CNN will not to be outgunned in the election night gimmickry wars. They will go down fighting. Or, as the case may be, blinking…and…blinking…and…blinking.
Witness the network's merciless deployment of the latest high-tech tool in its TV arsenal: The fearsome "Ballot Cam."
A few minutes ago, Wolf Blitzer tossed to correspondent John Zarrella, who was reporting live from a tabulation center in Riviera Beach, Florida where election workers were counting absentee ballots. Throughout Zarrella's dispatch, the "Ballot Cam"–essentially a red blinking light labeled "Ballot Cam"–hung on the screen above the reporter's head. Blinking.
Seemingly every time I flip back to CNN, there's another reporter, giving another dispatch, under the blinking "Ballot Cam."
With something like the "Ballot Cam" it's easy to get caught up in the question of…why? But the better question might be…why not?
At this early point in the night, I can't think of any.
The "Ballot Cam" sees all. It is Sauron. Only, blinking.
Where Are They Now: Katie Couric Edition (10:oo)
Four years ago, Katie Couric was riding high, coming off an election-altering interview with VP candidate Sarah Palin. She spent election night front and center, anchoring coverage for CBS News.
In 2011, she left the network, and has since joined ABC News.
So where is Katie Couric tonight?
There she is: Occasionally standing in front of a big touchscreen on the periphery of the ABC News studio, diligently reporting important developments, as they happen, on…um, Twitter.
Social media. It's important, people. But even so, doesn't look like Couric is getting much airtime.
Everybody Must Defend Their Math, Even Karl Rove (10:33)
On Fox News just now, anchor Megyn Kelly looked over at Karl Rove.
"You can hear the tone among some of our Republican guests that they are feeling pessimistic," said Kelly. "Are you feeling pessimistic?"
Karl Rove started going through a bunch of percentages.
"Can you say that again? All the numbers are coming at me too fast," said Kelly.
Rove broke it down, county by county. Bottom line, according to Rove's calculations: Things were looking okay for Romney in Ohio.
"My suspicion is that we'll continue to see [Romney] chip away at that 3 percent lead," said Rove.
"Is this just math that you do as a Republican to make yourself feel better?" asked Kelly. "Or is this real?"
Rove explained that his math was real.
Where Are They Now: Keith Olbermann Edition (11:00)
Four years ago, Keith Olbermann spent election night in front of the cameras, playing a major role for MSNBC.
In 2011, he left MSNBC. He later joined Current TV. Then he left Current TV.
Where is Keith Olbermann tonight?
Watching TV and tweeting.
"I have to ask," Olbermann tweeted earlier in the night. "Having not watched a presidential election telecast since 1996 – how do you guys actually stand this stuff on tv?"
On MSNBC, Maddow Calls the Election; Matthews Hits Trump (11:12)
At 11:12 on MSNBC, Rachel Maddow calls the election for President Barack Obama.
"He did it," said Chris Matthews.
"Let the record show that it is 12 minutes past 11 p.m. on the East Coast," said Maddow. "Ohio put him over the top."
The record will also show that it took less than two minutes for Matthews to take a celebratory shot at one Donald Trump.
"I've watched some of the ugly stuff in this campaign along the ethnic and racial lines, perpetrated by people like Donald Trump," said Matthews. "All that, I have to call it crapola, all that stuff, didn't have an effect in the North apparently. We'll see if it had an effect in the South. But he's won it without the south."
Fox News Says Obama Wins; Rove Abstains: (11:42)
Fox News called the election for President Barack Obama. But Karl Rove was not convinced. He questioned the decision to call Ohio for Obama. Amid the dispute, Megyn Kelly was dispatched to interview the network's "decision desk" on behalf of Rove. She grabbed a microphone and wandered through some hallways, around a couple corners, past rooms full of off-camera employees, and back to the staff at the "decision desk."
They stood by their numbers.
Kelly returned to the anchor desk.
Rove was not convinced.
"They know how science works," said Kelly.
"Look, they have a bigger data set than I do," said Rove.  "But…" He continues to dispute the decision.
"They're pretty confident back there, Karl," said anchor Bret Baier. "But we'll keep on going back and forth. Although, I don't know if we'll send Megyn walking again."
Before it's here, it's on the Bloomberg Terminal.
LEARN MORE