There's an Incubator for Almost Every Business
Verne Kopytoff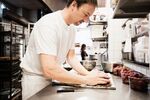 Huge ovens and industrial presses await start-ups at the Ceramics Corridor Innovation Center, a business incubator in south-central New York State. Companies use the equipment to churn out products that are largely invisible to consumers, though they are critical for everything from electronics to hip replacements.
Because of their particular requirements, startups in the ceramics industry face limited choices in business incubators. Nor can just any incubator give them useful advice. "It's actually quite tough to find good space for startups," says Alan Rae, executive director of the Ceramics Corridor Innovation Centers and its sister incubator, the Nanomaterials Innovation Center. "What we do is give access to the right type of work space, the ability to network, and a substantial set of equipment."
Rae's incubators are among hundreds focused on specific niches like digital education, green technology, homeland security, fashion and food. Unlike more generalist incubators, specialists offer industry-specific expertise, contacts, and if necessary, equipment that would otherwise be too costly for young businesses with limited cash.
Success rates are difficult to measure, but many people who study and advocate entrepreneurship speak highly of specialized incubators because staff often comes from the particular field of focus. Bouncing ideas off other startups can also be a valuable fringe benefit. "This notion of an ad hoc advisory board of your peers can be extremely helpful," said Alana Muller, president of Kauffman FastTrac, a nonprofit that offers courses in entrepreneurship. "You're establishing a network and a group of peers who can weigh in."
Specialty incubators tend to grow up around industries that are big enough to make the effort and expense worthwhile. A number of them target specific locations. The Ceramics Corridor, for example, is near the headquarters of Corning, the industrial glass and ceramics giant. Various government agencies, economic development organizations and academic institutions helped to found the incubator to create jobs in the area and boost research.
The Ceramics Corridor, which is overseen by a non-profit, houses seven companies at its facilities. They lease office space and share the lab, pilot production area, and kitchen. "Our greatest joy is when one of them graduates and opens their own plant," Rae says.
Specialized incubators generally tailor the length of their programs to the industries they serve. Internet startups can build an iPhone app quickly, while other industries take so much time to go to market that they seem plodding by comparison. "You put a bunch of programmers into a hothouse, feed them, and come up with a product in a few months," Rae said. "In the electronics industry, it takes seven to 10 years to get a product out. It's more a marathon than a sprint."
Indeed, in Silicon Valley, the specialized model follows a different script. In addition to the brevity of the programs, investment is usually involved. Typical is RockHealth, which gives health startups $100,000 and free office space for the duration of the program. In exchange, the companies give up a 6 percent stake in their businesses to several venture capital firms and to the Mayo Clinic.
At many specialty incubators, the goal is more about economic bootstrapping than building the next technology blockbuster. Encouraging entrepreneurship among the poor is a common theme. For instance, La Cocina, a culinary incubator in San Francisco, helps immigrant women with low incomes get food businesses off the ground. First-time entrepreneurs need plenty of guidance with the intricacies of opening restaurants and packaged food businesses.
Azalea Perez Olivares, events coordinator and spokeswoman for the food nonprofit, said that the reality check comes during regular informational orientations held before anyone can submit their applications. The message is deliberately sobering. "We try to be realistic—that the majority of food businesses fail," she says.
Staff and food industry volunteers mentor those who are selected for the program. Participants almost invariably have to rewrite business plans after better researching the competition and learning about the financing needed to turn their idea into a business. After getting the basics in order, the would-be food entrepreneurs can use the incubator's shared kitchen, which has eight work stations over 4,400 square feet. Food-safety regulations require all food businesses to use a professional kitchen, rather than cook at home. The women who go through the program come out with contacts in the food industry that they would probably never otherwise have been able to get. Additionally, buyers from Whole Foods, the specialty grocery chain, visit to take a look at the food coming out of the program. So far, 13 businesses have graduated, including a pickle maker and a baker of Irish shortbread that's covered in chocolate. A handful have opened restaurants, such as a graduate who originally sold his Japanese rice balls from a cart.
The danger to any kind of specialty incubator is focusing on an industry that is too small. Specializing also adds risk because a particular business niche may eventually wither amid changing technology, consumer tastes, or a depressed economy. Entrepreneurs, in turn, are encouraged to check the track record of specialty incubators and verify the staff's expertise. Just because someone says they can help doesn't make it true.
Before it's here, it's on the Bloomberg Terminal.
LEARN MORE