It's Time to Dismantle Air Romney
The GOP nominee's plane gets ready for its next hockey team
By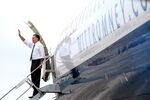 After Election Day, the work of tearing down a presidential campaign begins. Field offices are dismantled. Bunting and balloons are junked. And a small company in Michigan gets back its airplane. After the Republican National Convention, Mitt Romney toured the country in a personalized McDonnell Douglas MD-83. The tail fin sported his logo and the headrest on his seat was embroidered with "The Gov." The plane is operated by USA Jet Airlines, a subsidiary of privately held Active Aero Group, with headquarters in Belleville, Mich. Before another client can fly tail number N949NS, it must first be de-Romneyized.
Like all campaign aircraft, Air Romney took a beating as it lugged the GOP nominee and his entourage—family, staff, surrogates, reporters, cameramen, Secret Service agents, flight attendants, mechanics, and more—all day, every day, through the battleground states. The first step in turning it around, says Active Aero spokeswoman Bernadette Quist, is a thorough cleaning. "Decontamination" may be more appropriate: Campaign planes are notoriously filthy places, where poor hygiene, recycled air, and threadbare immune systems combine to create flying tubes of contagion. When USA Jet leases an airplane to, say, the University of Michigan varsity hockey team, Quist says, it usually comes back none the worse for wear. "That just gets your basic pickup and cleaning," she says. "This is going to need a little more intense care, shall we say."
Once the plane is no longer a disease vector, it's time to restore its anonymity. The Romney paint job—a blue belly and white top, with "BELIEVE IN AMERICA" stenciled on each side—will be stripped and painted over, likely with a mostly white coat and the USA Jet logo. Next, the seats may be reconfigured. Romney didn't request much customization of the MD-83, except having extra captain's tables installed, Quist says. Those may yet stay. "For the most part, we'll probably leave it as is, because we don't want to do a lot of extra work that we don't need to," she says.
USA Jet also supplies the plane's flight crew, from pilots to mechanics. Overall, the Romneys were model clients. "The flight attendants that I've talked to have said that the Romney group [was] very low maintenance," says Quist.
The Romney campaign paid $10.6 million this election to Air Charter Team, a Kansas City (Mo.) company that specializes in political travel logistics, according to Federal Election Commission data. It contracts the flights out to Active Aero. Air Charter Team is bipartisan, having handled travel for George W. Bush, Barack Obama, and John Kerry. It tries to plan cleanings in between campaign events, but the closer it gets to Election Day, keeping odors at bay becomes tougher. "We try to keep it as reasonable as possible," says Jonathan Tasler, Air Charter Team's president.
Active Aero's other clients have included sports teams, bands, casinos, and freight companies, in addition to pols from Obama to Mike Huckabee. Before its run as the official Romney jet, the MD-83 had flown the Boston Bruins and U2, according to aircraft groupies who log the plane's movements.
A small squadron of private aircraft, including a Hawker 400, a Learjet 35, a Cessna Citation, and an Embraer Phenom 300, whisked Romney across the country during his presidential quest, according to ThinkProgress. (It was one of these smaller planes that Ann Romney nicknamed "Hair Force One" last December.)
But the MD-83 makes more of a statement. On the night before the election, Romney taxied the rig straight into the Columbus (Ohio) airplane hangar where a rally was being staged. As an entrance, that's hard to top—though Romney likely would have preferred the helm of a certain 747.
BOTTOM LINE -
The bottom line: Companies that lease planes to political campaigns must disinfect them before putting them back in the air.
Before it's here, it's on the Bloomberg Terminal.
LEARN MORE