business
Hurricane Sandy Boosts the Generator Makers
Generac, the leading U.S. seller of home generators, expects a 40 percent sales jump
By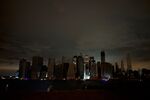 After thrashing the East Coast last week, Hurricane Sandy left millions of households struggling without power. Lower Manhattan fell into an eerie darkness for days, sparking jokes that the district would thenceforth be known as "Little North Korea." That kind of blackout, especially coming a mere 14 months after Irene swept through the Northeast and caused major flooding, is likely to have many people considering how to avoid the dark and chill next time.
Enter the home power generator.
Aaron Jagdfeld, chief executive officer of Generac Holdings, the leading U.S. seller of household generators, predicts that his company will enjoy a post-Sandy boost. "We believe that this event, as well as other recent outages, will have a positive impact on our results," he said during an Oct. 31 conference call with investors. He added that net sales for 2012 are expected to rise "in the low 40 percent range" over last year. The company's shares have jumped 37 percent since Oct. 26, including a 12 percent increase on Monday.
To an extent, the sales boost will likely be permanent. Judging by what the Waukesha (Wis.)-based company has experienced over the past decade, Jagdfeld said, "we see a spike in sales [following big outages], and that spike in sales settles down into a baseline that was higher than the previous baseline, prior to the events."
Generac hopes that Sandy will raise consumer awareness not only for portable generators, but also for standby generators, which are permanently installed into homes and don't require gasoline—a scarce commodity in Sandy-devastated regions these days. "What you're seeing right now is that gas stations don't even have power, so you can't get the gas out of the ground to run your portable generator," says Duane Nelson, Generac's vice president of marketing. "Standby generators run off your home's existing natural gas or LP supply, so you don't have to do any refueling."
Standby generators are, of course, more expensive than portables, costing anywhere from $1,900 to tens of thousands of dollars. They also require professional installation, which adds further expense. Portable generators retail for as little as $300.
Only about 3 percent of U.S. homes currently have standby generators while about 15 percent have portables, according to Generac, which tracks industry sales, including those from competitors such as Briggs & Stratton and Kohler.
Storms alone aren't the only causes of power outages. "While storms like Hurricane Sandy make headlines, outages like that only account for half the power outages (or less) every year," says Nelson. "Power outages occur for any number of reasons, including human error, equipment failure—and you wouldn't believe the number of stories about animals getting caught up in power transformers and things like that." He points out that about 41 million people were affected by power outages last year, while Hurricane Sandy, an impressive storm in terms of its impact, left only about 8.5 million without power.
Perhaps the greatest problem, according to Nelson, is that America's electrical system is aging, and little is being done to modernize it. "Most of our power lines, especially on the East Coast, are above ground, and the cost to bury them is extremely expensive," Nelson says. "The government estimates it to be a $2 trillion project."
On top of that, demand for electricity is increasing as the population expands and people use more devices. Says Nelson: "We like to say that we live in a digital society, but we still have an analog grid."
Before it's here, it's on the Bloomberg Terminal.
LEARN MORE