Some NYC Schools Will Double as Shelters Next Week
By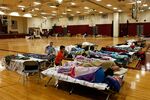 New York's schools have been shut for a week, but Brooklyn Technical High School in Fort Greene is bustling. The stately brick building is one of several schools that's been converted into a shelter for Hurricane Sandy evacuees. Inside, aid workers in neon crossing-guard vests shuttle through the corridors, coordinating volunteers who've come to help elderly and mentally ill evacuees, some of whom need around-the-clock assistance.
Outside the school's entrance, a small group of weathered storm survivors mills about, smoking cigarettes. David Maysonet, a 47-year-old who came to the shelter after his Coney Island home flooded and lost electricity and running water, is leaning against a wall. "It's pretty comfortable, I guess," he says of the high school. "Except we're so many people sleeping in the gymnasium and everyone is snoring—about 150 of us."
Things may soon get more hectic. Classes will resume on Monday, Nov. 5, and shelter inhabitants will live alongside returning students.
While New York is consolidating its shelters, eight schools are expected to house evacuees on Monday—and until further arrangements can be made. Besides Brooklyn Tech High School, these include FDR High School and John Jay High School in Brooklyn, Graphic Arts High School and George Washington High School in Manhattan, Hillcrest High School in Queens, and Susan Wagner High School and Tottenville High School in Staten Island.
"We will make sure our students are protected and safe and getting an education and—at the same time—we'll make sure that the residents there are also safe and protected and having a roof over their heads," Dennis Walcott, chancellor of the New York City Department of Education, told NY1. The Department of Education confirmed the list of schools but would not comment.
Certain schools, such as Brooklyn Tech, may also be used as polling places on Nov. 6. (At least, according to information from Oct. 28). Luckily for New Yorkers, students will have that day off.
Connecticut schools will be crowded on Tuesday, as voters jostle among students at schools that have chosen to remain open during polling. "This presents certain logistical challenges for access of voters to the polling place, traffic in the building, and available parking for voters on what is expected to be a high turnout Election Day," reads a press release put out by Secretary of the State Denise Merrill. Her staff is urging school administrators, municipal officials, and state emergency management officials to ask school superintendents "to consider either not holding school on Election Day, going to a half day schedule or find accommodations to share the space."
As for Maysonet, he's optimistic about Brooklyn Tech's multifunctional use in the coming days. "I think," he says, pausing for a moment. "I think it's gonna work. Not because things are run well, necessarily, but because it has to."
Before it's here, it's on the Bloomberg Terminal.
LEARN MORE