Fired Over a Romance, a CEO Seeks Redemption in Utah
by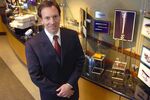 To many people, Stephen P. MacMillan's next gig looks like a step down.
After building Stryker into an $8.3 billion medical technology giant with 21,000 employees, he's just been named CEO of a firm in Orem, Utah that boasts about a dozen employees and a single product. But MacMillan says he's so excited by the potential of sBiomed and its anti-infection agent, Steriplex SD, that he turned down a senior role at Johnson & Johnson to take the job, which was announced Nov. 1.
"This could become a multi-billion dollar company," says MacMillan, 49, who's also taking an equity stake in the venture. "Next year, it will probably be in the tens of millions. Then we will quickly be in the hundreds of millions."
It's an unusual move for a man who was once seen as a possible contender to replace former J&J chief William Weldon. Then again, it's been an unusual year for MacMillan. At the start of 2012, he was a CEO to watch. In his seven years at the helm of Stryker, he'd tripled the revenues, diversified beyond the medical device business, and become a favorite with analysts.
Although the Kalamazoo, Mich., company had lingering issues with regulators and board pay, it became an industry leader. On Feb. 6, Fortune named Stryker as one of the best places to work for the second year in a row. Two days later, MacMillan abruptly resigned "for family reasons."
In truth, as it later came out, some board members had moved to fire MacMillan for having a romance with Jennifer Koch, a former Stryker employee who had worked as a flight attendant on the corporate jet. She was divorced. He was about to be divorced, and news of their romance rocked Kalamazoo. The drama was heightened by the fact that he'd approached some board members a few months earlier to give them a heads up about his romantic intentions, essentially seeking their approval to date Koch. In the end, they pushed him out. The sudden departure, which resulted in headlines worldwide, marred MacMillan's reputation and threatened to derail his career.
"For the first month, I was a bit of a hermit," he says. "As people started realizing the truth of what happened, I felt a lot more comfortable. But I was forced to step back and reassess."
One company that stood by him, it turned out, was J&J. MacMillan credits his ongoing negotiations to take a senior role there as critical in helping him get through that tough period. In the ensuing months, though, he says the role changed and diminished when Bayer executive Sandra Peterson was brought in to fix the consumer unit in early September. "The more that it was shifting, the more it reminded me that I wanted more control."
At the same time, a distributor who'd worked with MacMillan at Stryker asked for his opinion about a new technology from sBiomed.  The more he looked at the product, MacMillan says, the more excited he grew. "This stuff kills bugs to an extent not seen before," he says. It should. After all, the Environmental Protection Agency had already approved Steriplex Ultra to decontaminate spores of anthrax, the world's most deadly biological agent. Now, it was in the early stages of commercializing to other uses.
If Lysol could be a $2 billion brand, MacMillan felt the upside for Steriplex was huge. "You've got more than 100,000 people dying a year in this country alone from healthcare-associated infections," he says. "Every hospital is trying to figure out how to improve care and reduce costs. This product goes right in to be a solution. It's an easy sell."
MacMillan approached the owners just as they were looking for leadership to move them into the commercial realm.  They agreed to appoint him CEO and gave him an ownership stake that MacMillan describes as "significant. It's way north of five percent but it's not 30 percent."
One factor in sBiomed's favor, MacMillan acknowledges, was a dearth of other attractive options. "There's definitely a little bit of a cloud," he says. "There were some opportunities that didn't surface for me because of how I left. It pains me to say that but it's true." While private equity companies were interested in him, as were other ventures, he couldn't get passionate about any of them. "My heart and soul was in Stryker. J&J was a company I could be passionate about," he says.  "There are a lot of companies out there, but I couldn't get passionate about them. At this point, I think I'm better served building something."
Build he must. MacMillan says his first priority is to build a sales team.  He's mapping out strategy and meeting with potential customers. He's even adopted an owner mentality. "I'm back to flying commercially," he laughs. "The perk and the lifestyle were wonderful, but I was never motivated by that. There's a closeness to the business that I missed. As CEO, you can get a little bit distant. More than anything, I want to make a difference and compete."
At some level, he also wants vindication. While he refuses to talk specifics about his departure from Stryker, he calls the board's actions "unfair and uncalled for." He and Koch are still dating: "We've been seeing each other for 13 months now. We're very much together." (As corporate romance buffs may recall, former Citigroup chief John Reed barely raised an eyebrow when a flight attendant on the corporate plane became his second wife.)
The best revenge for an ousted CEO? Build a billion-dollar brand. "This is a chance to create a company like S.C. Johnson," MacMillan says. Could it take ten, maybe 15 years to get there? Perhaps. "The goal is to build a major new corporation in this country. That's the scale I think about this."
Before it's here, it's on the Bloomberg Terminal.
LEARN MORE