Phil Bosua's Supersmart Light Bulb
A Light Bulb That Talks to Your Smartphone
by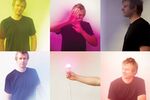 About two decades ago, Phil Bosua dropped out of college in Australia, where he was studying to be an electrician, to pursue his dream of becoming a rock star. He spent a few years playing with a band called Propeller, and did concert lighting for other bands, honing his knowledge of circuitry. Later he learned to code as well, creating compilations of public-domain books and making them readable in an app format. His apps were downloaded 6 million times, he says. The process taught him what's possible with smartphone software.

With this expertise, Bosua, 38, is now building a better light bulb. His Lifx bulbs, which screw into standard lamps, are energy-efficient, last up to 25 years, and can shine in millions of different color gradations. Embedded with a Wi-Fi chip, the bulbs can be controlled with a smartphone app that lets users program on and off times, set mood lighting, and get notified of new text messages or tweets via pulsating lights. Lifx users can even turn their living room into a club by synchronizing those colored lights to music playing on their phone.
The idea came from a barroom conversation in April 2012 with a friend who wondered, "Is there any way I can get, like, a wireless light bulb?" Bosua recalls. "After a few beers, I said, 'Well, you could probably do that with your phone somehow.' " Six months of work, a dozen prototypes, and many more beers later, Bosua came up with a basic design featuring compact components that could work wirelessly and withstand the heat of a bright bulb. (Philips Electronics also recently began selling a wireless bulb, but it requires a bridge device that plugs into a home router.) Then he filmed a pitch video seeking donations through Kickstarter. He hoped to raise $100,000 over the course of two months; the project blew past that target in about a day.

By the end of the campaign's first week, when the funding reached $1.3 million, Bosua decided to stop taking orders. He says he'll deliver the nearly 22,000 bulbs and apps requested by Kickstarter backers starting in March and then begin filling orders from the 17,000 people who have registered interest on Lifx's website.
Working from Melbourne, Australia, and Palo Alto, Bosua and his eight employees are tinkering with prototypes, coding the smartphone software, and negotiating deals with manufacturers to produce the bulbs. They've been inundated with offers from venture capitalists who noticed the huge response online, Bosua says. He declined to name the VCs.

In September, Guy King, the Australian creator of the coupon site RetailMeNot, pledged to invest $2 million. In addition, King is kicking in $10,000 to cover the cost of building a Lifx prototype. "I know what Phil is capable of," says King. "He has this kind of zany habit of making things happen." Although upbeat, King says there are still unresolved technological challenges. "Normally you figure out all the technical issues, and then the hard part is trying to market it and sell," he says. "But it's backwards in this case."
The Lifx bulbs will cost at least $79 apiece when they officially go on sale on the site. Bosua acknowledges the price is high, but says buyers are getting a lot for their money: "What we've created will probably turn the light bulb into a consumer electronics device."
Before it's here, it's on the Bloomberg Terminal.
LEARN MORE