Bloomberg View: Don't Let a Jobs Report Elect a President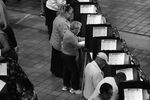 Would you let a random-number generator decide the next U.S. president? Something like that could occur following the Nov. 2 release of the government's monthly jobs report. The change in nonfarm payrolls and the unemployment rate are front-page news in a nation searching for signs of recovery. A surprise of even 50,000 jobs can move markets. A big payroll number could tip the outcome in favor of President Obama. A poor report could be just what Mitt Romney needs to convince the nation it's time for a change.
It's bizarre that the jobs numbers wield so much influence, given that they often bear little relation to economic reality. The fact is, it's difficult to measure in real time how many jobs the economy has produced in a month. When the Bureau of Labor Statistics estimates the change in nonfarm payrolls, for example, it's trying to pin down a tiny shift—a matter of thousands of jobs—in a labor pool of more than 130 million.
The challenges of measurement translate into large margins of error. When the BLS says the economy created 100,000 jobs in the previous month, it actually means it's 90 percent sure that the real number is somewhere between 9,000 and 191,000. The same is true of unemployment: If the reported rate is 7.8 percent, the true rate could be anywhere between 7.6 percent and 8 percent. A shift of 0.2 percentage points in unemployment—enough to jolt bond yields and set pundits jabbering—doesn't even breach the threshold of statistical significance.
Revisions to the jobs numbers show how misleading the preliminary data—and the conclusions people draw from them—can be. In the first eight months of 2008, employment reports showed small declines of about 20,000 to 60,000 jobs a month, suggesting the developing financial crisis would be mild. The stock market held up, and economists raised their growth forecasts for the year. Now, revised numbers show the economy began shedding about 200,000 jobs a month beginning in April 2008, a drop that would have pointed to the deep recession the country was entering.
In early September this year the Labor Department reported that monthly job growth had slowed to only 96,000 in August. By early October, when the number was revised up to 141,000, hardly anyone was paying attention.
What to do? Recognize the preliminary jobs numbers for what they are: an early guess. Vote for the candidate you think can help repair the economy. Don't let one month of fallible data change your mind.
BOTTOM LINE -
To read Jonathan Mahler on rotisserie baseball and A. Gary Shilling on rising stocks, go to: Bloomberg.com/view.
Before it's here, it's on the Bloomberg Terminal.
LEARN MORE