Mayor to City: Form a Carpool
by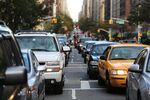 Saying "the streets can only handle so much," New York City Mayor Michael Bloomberg on Wednesday afternoon announced new traffic restrictions for the four East River bridges into Manhattan. From 6 a.m. to midnight, vehicles venturing into Manhattan on those crossings must have three or more passengers. The Henry Hudson and Triborough bridges, in addition to the Lincoln Tunnel, will also adopt the new rules. Other updates from today's press conference:
• Schools will be closed for the rest of the week, though teachers should return to work on Friday.
• Limited subway service will start up on Thursday.
• 643,000 residents are still without power. The system is slowly being restored.
• Tuesday night the New York Police Department deployed 80 light towers on the streets below 34th Street where many neighborhoods still lack power. The plan is to add another 100 on Wednesday night.
• Mandatory evacuation orders in Zone A have not been lifted yet, and the mayor doesn't know when they will be; building inspectors must examine buildings before residents can return.
• Some hospitals that previously not been evacuated are now evacuating because of deteriorating conditions; Bellevue is one of these. Some of these patients will move to other hospitals; other to shelters.
• About that dangling crane: Engineers have determined that ties that bind the crane to the building are secure.
• The city is offering loans of up to $10,000 to small and midsize businesses that were hurt by the storm.
• Is Trick-or-Treating on for tonight? "That's between you and your neighbors," says the mayor.
• Thursday night's Knicks-Nets game is canceled.
• The mayor has a new sign-language interpreter. No word yet on her name or whether, like her predecessor, she has a tumblr maintained by fans.
Before it's here, it's on the Bloomberg Terminal.
LEARN MORE