Mayor Bloomberg: 'People Just Don't Understand How Strong Nature Is'
By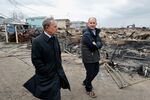 Mayor Michael Bloomberg spoke to New Yorkers Tuesday morning, announcing that city schools would be closed Wednesday and saying it might take up to five days to get subways running. Runways at the city's airports are flooded, many in the region are without power, and 6,100 residents are staying in emergency shelters. "We expected an unprecedented storm," the mayor said. "That's what we got."
As the mayor's star sign-language interpreter, Lydia Callis, translated, the mayor provided additional updates:
—Public transportation is closed until further notice, with no timeline set for its restoration. Limited bus service may be restored, "perhaps this afternoon."
—Roads may be clear and free of water as soon as Wednesday.
—A few hospitals are closed, including New York Downtown Hospital, the only hospital in lower Manhattan. NYU Langone and Coney Island hospitals have been evacuated. Bellevue Hospital Center is running on backup power.
—The collapsing crane on West 57th Street is currently stable but cannot be fully secured until the winds die down.
—The 311 emergency lines are currently experiencing long wait times. The 911 lines had delays up to 5 minutes at some points but is now operating more smoothly.
—There have been more than 4,000 tree-service requests. The mayor advises people to continue to stay out of parks. "I think people don't understand just how strong nature is," Bloomberg said.
—Emily Biuso
Before it's here, it's on the Bloomberg Terminal.
LEARN MORE