A Startup That Aims to Be the Kayak for Money Wiring
By
Walk through an immigrant neighborhood in any major U.S. city, and you're likely to see storefront after storefront of money-transfer companies such as Western Union, MoneyGram, and Vigo. Since many immigrant workers don't have bank accounts, these businesses offer a way to send money home—$48 billion in 2009 alone.
It isn't exactly easy to find a good deal, though. The exchange rates can change multiple times a day. The fees vary widely and are often steep. And the sheer variety of companies and options can be tough to wade through. Brendan McBride, an affordable housing developer living in Brooklyn, thinks he can improve on that. His new website, Remás, is a one-stop shop for pricing information that shows users exactly how much—after fees—their relatives will receive. It "allows people to have information at their disposal before they step out the door," McBride says. "It's a hassle to go from place to place."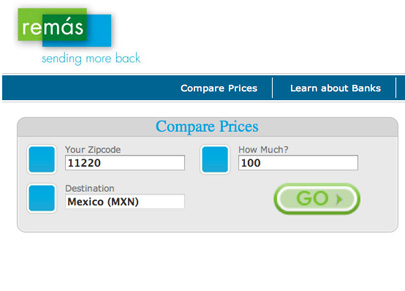 Remás ("send more back") is being beta-tested with 25 Mexican immigrants in Brooklyn's Sunset Park neighborhood, where workers have 47 places to choose from when they want to send money home, according to McBride. His users wire about $300 a month, paying fees of $3 to $23 per transaction.
McBride says he plans to expand Remás to at least 100 people by year's end and roll out the site to the public by early next year. Smartphone apps are also forthcoming. Will people use Remás? According to the Pew Hispanic Center, about half of foreign-born Latinos use the Internet, and 72 percent have cell phones (though Pew doesn't break out smartphone usage). Xoom, an online money-wiring service for overseas transfers, has been growing since its launch in 2001.
With rates and fees changing so often, the biggest factor in Remás's success may be keeping its pricing information current. McBride says that while some companies publish their pricing online, he had to strike deals with others to get their data. The site is run as a nonprofit. Ultimately, he hopes the increased transparency provided by Remás will spur greater competition and lead to lower prices. "The longer-term goal," he says, "is to offer people a tool that will enable them to have the power as consumers to potentially shift the market."
Before it's here, it's on the Bloomberg Terminal.
LEARN MORE