Ted Weschler: The Next Warren Buffett?
More than a stockpicker, Weschler could run Berkshire one day
By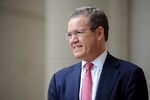 A knack for finding value in distressed companies is helping Ted Weschler carve out a role at Berkshire Hathaway that goes beyond the stockpicking job he was hired for. Since joining Warren Buffett's company in January, the 51-year-old former hedge fund manager has made a bid for a bankrupt mortgage business, negotiated a deal that pushed Berkshire deeper into newspaper publishing, and reviewed possible takeover targets—in addition to running a multibillion-dollar equity portfolio.