'Then the Canalettos Go'
by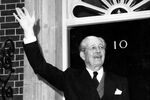 With governments ' borrowing costs down and European bank stocks up, any sense of urgency among Europe ' s leaders about fixing the euro area ' s institutional flaws seems to have evaporated. Complacency rules.
—Joachim Fels, "Sunday Start," Morgan Stanley, Oct. 21, 2012
With unemployment already at 25pc— and 34pc in Andalucia— we are in uncharted political waters. All we know from history is that the longer this goes on, the greater the likelihood of sudden rupture. Events dear boy, events.
—Ambrose Evans-Pritchard, "Europe Mistakes Market Lull for Vote of Confidence," the Telegraph, Oct. 19, 2012
Complacency, within a lull.
Evans-Pritchard is busy over at the Telegraph. See his wonderful exposé on two economists' desire to return us to 1848 or 1666. I cannot figure out which.
Fels, just back from the non-event known to history as the Tokyo IMF meetings, has fully recovered and reasserts his grave doubts about the actions of the elite of Europe. (Points to Mme. Lagarde for sounding off amid the many jet-lagged.)
Complacency always ends.
See Howard Davies for a tour-de-force on the gross under-estimation by all of the Federal Reserve Bank of Germany. The Bundesbank will prevail.
Meanwhile, A E-P channels Harold Macmillan.
Macmillan, in my inexpertness of U.K. prime ministers, was centrist, pragmatic and wildly aware of history. He was a Churchill protege.
It is disputed that he did or didn't say, "events, dear boy, events." What cannot be disputed is Fels, Davies, Evans-Pritchard, me, and Team Non-Complacent would suggest radar up.
The first Earl of Stockton would take the measure of this October 2012 and understand that a pragmatic meeting of the developed-nation elite with its people is in order. As well, a needed clearing of markets.
Macmillan: "The sale of assets is common with individuals and states when they run into financial difficulties. First, all the Georgian silver goes, and then all that nice furniture that used to be in the saloon. Then the Canalettos go." Discuss.
Before it's here, it's on the Bloomberg Terminal.
LEARN MORE