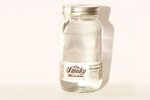 In the summer of 2009, as the U.S. economy shed more than a million jobs, the state of Tennessee changed its liquor laws to allow distilleries to operate in 41 counties where they'd previously been banned. Three lawyers from the Smoky Mountain region on the state's eastern border jumped at the opportunity. "I had always been around moonshine," says Joe Baker, a 37-year-old Gatlinburg native. "My family had been involved over the last 200 years or so, since they settled this area."
Baker and his partners, Cory Cottongim and Tony Breeden, hustled to get approval to open a distillery, Ole Smoky Moonshine, in Gatlinburg. Banks were not eager to lend. "For three guys to go into a bank with zero industry experience and ask for money to make liquor, it probably didn't appear to be the best loan to make," Baker says. Instead, he raised money by borrowing against the property value of his law office on the courthouse square in Sevierville and taking out a personal line of credit. Ole Smoky's founders poured $500,000 into land and equipment to pass muster for a liquor license. Using a tax incentive expanded by the Obama administration, they were able to write off everything from a $120,000 still to $467 worth of bug lights.
"I remember the first day that we got open, we had a long line of customers waiting," Baker says. In the first month, Ole Smoky sold about 275 cases of their clear moonshine, at $34.99 a jar. This year, with new flavors such as apple pie, the company is on pace to sell 100,000 cases, with revenue of more than $20 million. Its products can be found in 40 states and are carried by Wal-Mart Stores, Sam's Club, and Costco. "I practice law now because I enjoy it," says Baker. "I take far fewer cases now than I used to. The distillery business has certainly become our primary income."
 
 
OBAMA-ERA INCENTIVES TO GET BUSINESSES MOVING
Startup expenses: In 2010 new businesses could write off $10,000 in startup costs.
Bonus Depreciation: Companies can write off new capital investment.
Capital Gains: Investors who put money into startups and small businesses in 2010 and 2011 will be exempt from capital gains tax if they sell their stakes for a profit.
Loan Guarantees: The Small Business Administration increased the size of loans it would guarantee to $5 million.
 
Sources: IRS, National Economic Council, Tax Policy Institute
Before it's here, it's on the Bloomberg Terminal.
LEARN MORE