Wal-Mart's New Prepaid Card May Be the Best Deal Yet
By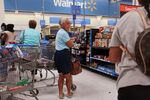 Corrects 3rd paragraph to reflect that some prepaid cards are FDIC insured.
Wal-Mart Stores and American Express are taking a big plunge into the prepaid debit-card market with a new card called Bluebird. The card has many features that are standard in regular bank accounts and seems to have remarkably few fees—which have long been the scourge of prepaid cards. Bluebird is the biggest sign yet that prepaid cards are evolving from a product for the poor and unbanked into a more mass-market offering that competes with regular checking accounts.
NerdWallet, which maintains a database of prepaid cards, says Bluebird is "exactly as momentous as they make it out to be" because it has virtually no fees. The card has no monthly maintenance fees, and it's free to load money on it through direct deposit, with cash at Wal-Mart, or via transfer from a checking account. (It costs $2 to use a debit card to load money on the Bluebird card, which seems like a strange thing to do in any case.) Bluebird doesn't allow overdrafts, so there will be no surprise charges for spending more than the account balance. It costs $2 to withdraw cash from an ATM—and that fee is waived for in-network ATMs if the card is loaded via direct deposit. Strangely, the full Bluebird website won't be up and running for another week, so it's not clear if there will be fees for other features such as the peer-to-peer transfers that are possible with Bluebird's mobile app.
Amex and Wal-Mart started a pilot program for Bluebird in 2011, with a more limited set of features. The relaunched product is much closer to a true bank account alternative. For example, it lets customers pay bills online and deposit checks by taking photos of them, a feature several major banks have added as recently as last month. Like many prepaid cards, Bluebird cards aren't FDIC-insured and don't have as much consumer protection as a standard checking account
As NerdWallet pointed out, consumers haven't been particularly sensitive to prepaid card fees, perhaps because there are usually so many different types of charges that customers have a hard time shopping around. Some card providers are looking to create a standard fee box to make costs clearer, and the Consumer Financial Protection Bureau says it's working on new rules to regulate prepaid cards.
At first glance it seems strange that discount king Wal-Mart is teaming up with Amex, the high-end credit-card company. While the terms of the tie-up weren't disclosed, there are benefits for both. Bluebird gives Wal-Mart customers more reason to shop in its stores. Wal-Mart already offers another, more traditional prepaid card, which is run by Green Dot, but it doesn't have as many features and costs more. And retailers have long complained about how much they pay banks and payment networks to process transactions, so having two financial services suppliers can't hurt Wal-Mart's long-term bargaining power.
For Amex, the card is a way in to expand to a less affluent audience. After all, there's plenty of competition for the big spenders that make up Amex's typical customer base. As a payment processor, Amex would typically recoup swipe fees. As I've written before, swipes on prepaid cards are exempt from the caps mandated in the Durbin Amendment. Card issuers usually also make money off the "float," where they can get some return on investing account balances.
With its low fees and powerful backers, Bluebird will be the best test yet of whether prepaid cards can mount a serious challenge to traditional bank accounts.
Before it's here, it's on the Bloomberg Terminal.
LEARN MORE