The Corporate Case for Affirmative Action
By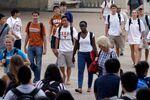 On Wednesday, Oct. 10, the U.S. Supreme Court will hear arguments on whether universities may favor racial minorities in admissions. The case presents a delicate constitutional question about the meaning of "equal protection" and poses a major test for John Roberts, the Republican chief justice who last June outraged many conservatives by joining four Democratic colleagues to uphold President Barack Obama's health-care overhaul. Will Roberts again defy ideological expectations to endorse affirmative action in undergraduate admissions? Or, more likely, will he reiterate his past opposition to race-conscious policies—and in the process, make clear that his deciding vote on Obamacare was an anomaly in political terms?
If large corporations have their way, Roberts will lean left and find a way to justify racial preferences. Business, especially big business, began to embrace affirmative action in the 1980s. Corporations do not want the Supreme Court to condemn preferences in broad terms, potentially exposing employers to a new wave of reverse-discrimination suits filed by white applicants and employees.
Business also contends that, constitutional principles aside, affirmative action works. To succeed, corporations "must be able to hire highly trained employees of all races, religions, cultures and economic backgrounds," asserts a "friend of the court" or amicus brief (PDF) filed on behalf of 57 of the best-known names in industries ranging from manufacturing to insurance, high-tech to retail. "It also is critical" to employers, the brief adds, that "all of their university-trained employees have the opportunity to share ideas, experiences, viewpoints and approaches with a broadly diverse student body."
The corporations making this plea for racial pragmatism run the alphabetic gamut from Abbott Laboratories to Xerox and include Aetna, Dow Chemical, General Electric, Halliburton, Microsoft, Northrop Grumman, PepsiCo, Pfizer, Procter & Gamble, and Wal-Mart, among many others. "The only means of obtaining a properly qualified group of employees," the businesses add, "is through diversity in institutions of higher education, which are allowed to recruit and instruct the best qualified minority candidates and create an environment in which all students can meaningfully expand their horizons." Jenner & Block, a prominent corporate law firm, wrote the amicus brief.
The case, Fisher v. University of Texas, was originally filed on behalf of Abigail Fisher, a white woman rejected by UT. Fisher argued that the school violated her constitutional right to equal protection under the law by considering race as one factor in admissions, a policy designed to boost black and Hispanic enrollment. Fisher's appeal constitutes an attack on a 5-4 ruling in 2003 in which the Supreme Court said colleges and professional schools could consider race as part of a "holistic" assessment of an applicant's credentials. Justice Sandra Day O'Connor wrote the majority opinion in the 2003 case; she has since retired and been replaced by Samuel Alito, who, like Roberts, is an appointee of former President George W. Bush. Both Alito and Roberts are outspoken skeptics of racial preferences.
Under Texas law, the university admits most of its freshman class solely on the basis of class rank. As explained by Greg Stohr of Bloomberg News: "Because many Texas high schools are heavily Hispanic or heavily black, the system guarantees admission to thousands of minority applicants." Roberts "has made clear he sees race neutrality as a constitutional imperative. In a 2007 ruling that put new limits on efforts to integrate public grade, middle, and high schools, he wrote that 'the way to stop discrimination on the basis of race is to stop discriminating on the basis of race.'"
The University of Texas case elicited an extraordinary 73 amicus briefs backing the school's attempt to defend its admissions rules, including one (PDF) filed by the Obama administration. Seventeen briefs, from conservative organizations and others, were filed on Fisher's side. (You can find the entire roster here.)
The Jenner & Block brief notes that in its 2003 ruling, the Supreme Court relied in part on the argument—offered in a corporate amicus brief–that "the skills needed in today's increasingly global marketplace can only be developed through exposure to widely diverse people, cultures, ideas, and viewpoints." Nine years later, Jenner & Block adds, that perspective has proved truer than ever.
Before it's here, it's on the Bloomberg Terminal.
LEARN MORE