What Do Pro Designers Think of Arby's New Logo?
By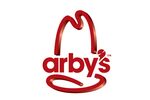 As it approaches its 50th anniversary in 2014, Atlanta-based restaurant chain Arby's has redesigned its iconic cowboy hat logo and launched a new ad campaign about "slicing up freshness." It's Arby's first logo redesign since 1975, and the makeover seems aptly timed as Arby's recovers from a series of mishaps—most infamously, when a Michigan teen found a worker's severed finger in a sandwich earlier this year.
"We've made small but significant changes designed to contemporize the look without losing what our most devoted customers love—namely the hat," says Russ Klein, Arby's chief marketing officer. "The most significant elements, the lowercase font and the apostrophe slicer icon, are details that communicate our point of differentiation, that we freshly slice meats daily in our restaurants."
But just how good is the new design? Well, Bloomberg Businessweek asks four design professionals—99designs' lead visual designer Kyle Lin, Little Red House's design partner Michelle Gamble, Rivington Design House's creative director Brion Isaacs, and Pratt Institute's Graduate Communications Design Department adjunct professor Graham Hanson—what they think about Arby's new, digital-looking logo:
Kyle Lin: Overall, I think it's a vast improvement from the "before" logo. It has youthful, casual appeal. I like how they brought in modernized aspects of their older branding in updated ways. The new apostrophe's supposed to represent a meat-cutting blade, which works well with their new positioning. Gotta love the hat.
Michelle Gamble: The old logo had charm and familiarity. This lacks charisma. The hat tries too hard to be an app and has no relationship to the logotype, apart from color. Without the name recognition, the logo evokes more of a "tech" feeling.
Brion Isaacs: The 3D effect has no place in this logo and looks forced and is executed poorly. Sucks. It seems like Arby's is trying too hard. The whole glossy thing is so out of touch. There's this retro throwback now, which is kind of cool. The old logo was familiar and classic; it's a nice piece of Americana.
Graham Hanson: The typography of the old logo evoked Western themes and consequently "paid off" the stylized and simplified cowboy hat/lasso. Now you have what are really abstract shapes with typography that provides no visual cues. The unique essence of what set Arby's apart from other fast food has been lost.