Getting Banks off the Roller Coaster
A back-to-basics approach to regulating risk is gaining adherents in the U.S. and the U.K.
By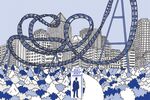 Bank executives like to say that their most important job is managing risk. This does not mean they're good at it. Banks the world over have often failed to monitor hazards properly, blowing up spectacularly every few decades. Regulations drafted in the wake of the global financial crisis were supposed to curb dangerous behavior. Yet the complex new rules repeat a mistake that led to the banks' troubles in the first place: They assume bank executives and regulators can figure out what is risky.