The Spanish Crisis Deepens
A bailout may be imminent
By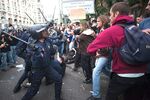 Has a Spanish bailout become inevitable? Yields on the country's 10-year bonds spiked above 6 percent on Sept. 26, after Madrid was convulsed by anti-austerity demonstrations and the head of its largest region, Catalonia, called for "self-determination" elections. Adding to the pressure, newly released data showed the economy contracting and budget deficits rising, while the finance ministers of Germany and other "donor" countries suggested Spain might need to pump more money into its troubled banks before getting help from the European bailout fund.
Prime Minister Mariano Rajoy until now has played coy about the question of a sovereign rescue, since in return for a rescue the Spanish would have to accept even harsher austerity measures than they already have. But Rajoy's office, confirming remarks made in a Wall Street Journal interview, said Rajoy was "100 percent" ready to ask for a bailout if the country's borrowing costs remained "too high for too long." Those comments were "like a red rag to a bull in terms of the market needing to strong-arm Spain into accepting aid," Richard McGuire, a fixed-income strategist at Rabobank International in London, told Bloomberg News.
Rajoy's options appear to have narrowed sharply. The Bank of Spain reported on Sept. 26 that the economy contracted at a "significant pace" in the third quarter. The budget deficit during the period was almost 4.8 percent of gross domestic product, up from 3.8 percent last year. And on Sept. 25, the finance ministers of Germany, the Netherlands, and Finland said that the European Stability Mechanism—which Spain has been counting on to help recapitalize its banks—might not do so unless the Spanish government kicked in more money.
Violent protests in the capital and the self-determination push by Catalonia, Spain's richest region, undermine the central government's efforts to reassure investors. Catalan President Artur Mas has called early elections for Nov. 25.
The malaise in Spain is also weighing on the euro, which fell to $1.28, its lowest level in two weeks. "Markets are reacting to the negative news flow we've seen out of Spain," Jeremy Stretch, head of foreign-exchange strategy at Canadian Imperial Bank of Commerce in London, told Bloomberg News.
Rajoy, who is spending the week at the United Nations in New York, also has been hit by a report that he and his staff drink heavily during flights on his official jets. The Spanish magazine Interviu reported that Rajoy and five staff members consumed seven bottles of wine and 10 beers with dinner on a flight back from a European championship soccer match, the day after Spain asked its European neighbors for €100 billion to recapitalize Spanish banks. A spokeswoman for Rajoy declined to comment on the report.
Before it's here, it's on the Bloomberg Terminal.
LEARN MORE