Bid & Ask: The Deals of the Week
Noteworthy expenditures of the week
by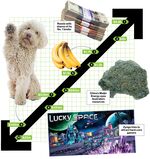 1. Russia raised $5.2 billion through the sale of a minority stake in Sberbank, the nation's largest lender, as part of a plan to reduce ownership in government-controlled companies.
2. Blackstone Group will buy Vivint for about $2 billion to gain home security, energy management, and solar power customers in more than 670,000 North American homes.
3. No. 1 supplier of fresh fruit and vegetables, Dole Food, will sell its worldwide packaged food division and its Asia fresh produce business to Japanese trading house Itochu for $1.7 billion.
4. Waste Connections will buy subsidiaries of R360 Environmental Solutions for about $1.3 billion, adding oil field waste treatment services in the Permian, Bakken, and Eagle Ford basins.
5. Canada's B2Gold, which mines the precious metal in Latin America and Africa, will buy CGA Mining for about $1.1 billion to add production in the Philippines.
6. New Orleans-based EPL Oil & Gas will acquire Gulf of Mexico fields from closely held Hilcorp Energy for $550 million.
7. Expanding into renewable energy, Beijing Development will purchase the power generation firm Green Energy Holding from China Green Energy for as much as $535 million.
8. China's Meijin Energy Group offered $454 million for Australia's Western Desert Resources, which holds iron ore, gold, copper, and uranium deposits in the Northern Territory.
9. Germany's Bayer will pay as much as $145 million for Teva Pharmaceutical Industries' U.S. animal-health business, boosting its veterinary franchise.
10. Aiming to attract more serious players, social gaming company Zynga will pay as much as $25 million to acquire A Bit Lucky, the California-based developer of challenging, graphically rich games, say two people familiar with the deal.
Before it's here, it's on the Bloomberg Terminal.
LEARN MORE