New T-Mobile CEO Legere Faces Promising Problems
Kevin Fitchard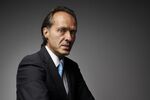 Three months after T-Mobile USA's Chief Executive Officer Philipp Humm quit to move to Vodafone (VOD:LN), the U.S. carrier finds itself welcoming a new chief. Deutsche Telekom (DTE:GR) has named former Global Crossing CEO John Legere to take over its U.S. mobile arm.
Legere, 54, will officially change offices on Sept. 22, when interim CEO Jim Alling will return to his old job as T-Mobile's chief operating officer. From his résumé, Legere seems an odd choice. Global Crossing, which was acquired by Level 3 Communications last year, was a submarine cable operator providing the fiber connections that link continents, not a consumer-facing wireless business. Legere had a stint at Dell Computer, but the last time he worked at a retail carrier was in 1998 at AT&T; even there, he wasn't working in the cellular or consumer side of the house, but instead managed AT&T's Asian wireline business operations and headed up corporate strategy.
Then again, someone unaccustomed to how things are usually done in the U.S. mobile industry is exactly what T-Mobile needs right now. If the company is to succeed, it will be by challenging the status quo established by AT&T and Verizon Wireless, which collectively manage two-thirds of all U.S. mobile connections. T-Mobile started down a fresh path after its planned merger with AT&T failed last year.
As I wrote when Humm departed in June, T-Mobile's new CEO shouldn't change a thing about strategy. It's not clear whether Legere is going to listen to GigaOM, but hopefully he'll listen to T-Mobile's more-than-capable staff members, who started laying the foundation of that challenger strategy long before DT tried to climb into bed with Ma Bell.
T-Mobile is questioning the long-accepted accepted pricing models in the U.S. mobile market. It's moving customers away from device subsidies and in the process, eliminating the hidden device "mortgage" payments we make on our monthly bills. It's offering data plans at a steep discount to AT&T and Verizon Wireless, and it recently rejoined Sprint in selling an unlimited smartphone plan.
On the network side, T-Mobile is taking advantage of its limited spectrum resources to overhaul its network, shutting down old 2G networks so it can repurpose their airwaves for an LTE network, as well as eke out more 3G capacity. In the process, it is realigning its networks bands with the major North American GSM operators, which will give it access to a greater variety of devices—including the new iPhone 5. (T-Mobile Chief Technology Officer Neville Ray will detail that transformation at GigaOM's Mobilize Conference this Friday.)
That network overhaul can't come soon enough. As the only nationwide U.S. operator without the iPhone, T-Mobile is suffering customer defections it can't stem, no matter how cheap it makes its data plans. T-Mobile is actually 400,000 subscribers smaller than it was at this time last year.
Legere is going to have to figure out how to staunch that subscriber outflow. One hopes he won't do it by reversing T-Mobile's course to emulate the big operators. Although T-Mobile once had dreams of mega-carrier glory, the failure of AT&T-Mo put an end to those fantasies. Whether Legere likes it or not, T-Mobile's new role is that of the market challenger, and it's not going to succeed by playing the same game as its bigger rivals.
Also from GigaOM:
Mobile Second Quarter 2012: Analysis and Outlook (subscription required)
Slowly and Steadily, Vimeo Hits Its Growth Stride
Ten New IoS 6 Features iPad Users Should Know
Building Data Startups Team Up Around Real-Time Energy Data
How Apple's Passbook Can Bring Mobile Ticketing Mainstream
Before it's here, it's on the Bloomberg Terminal.
LEARN MORE