The Big Promotional Value of Liquor Mini-Bottles
By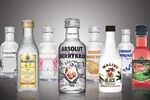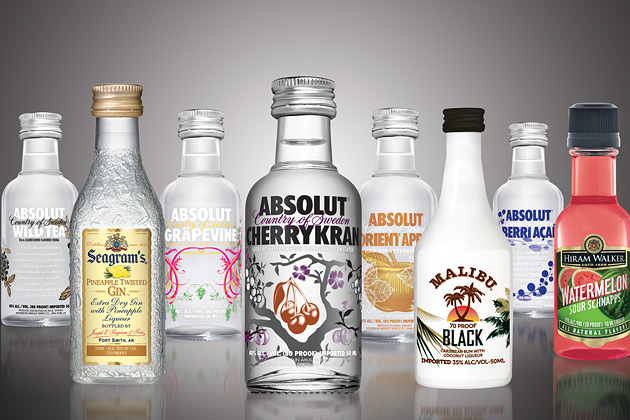 A nine-month investigation into the theft of more than 100,000 mini-bottles of liquor and other duty-free items, dubbed Operation Last Call, culminated in last week's arrest of 18 workers at John F. Kennedy International Airport, including LSG Sky Chefs truck drivers and security guards. The mini-bottles, according to a statement from Queens District Attorney Richard A. Brown, sell on the black market for anywhere from 55 cents for a bottle of Baileys to $1.25 for a bottle of Courvoisier.
The 50-milliliter bottles are popularly sold in airplanes and hotel minibars, where confined spaces require smaller vessels. They're also sold in liquor stores. But the true purpose of mini-bottles is "trial," says Jay Harkins, chief executive officer of Blackheath Beverage Group, a Stamford (Conn.) sales and marketing company for wine and spirit brands. "You can chalk it up to marketing."
From a production standpoint, Harkins says, "they are a pain in the neck. They are expensive to bottle. None of us like them, but they are necessary." Spirits customers tend to be brand-loyal, so making nips available helps keep them from switching to a competing brand, no matter what size bottle they are purchasing. "Someone says, hey, there's this great new vodka, why don't I spend 99 cents on this mini?" says Harkins, who co-founded Blackheath, which introduced minis for such brands as Excellia Tequila, G'Vine Gin, and Landy Cognac. "And if I like it, I'll buy the $30 bottle."
Overall, these sample sizes represent a small portion of sales. "Minis are less profitable than larger-size bottles, but we still make money from them," says Phil Lynch, a spokesperson for Brown-Forman, the maker of brands including Jack Daniels and Southern Comfort. "We are willing to accept less profit from the minis for the promotional, marketing, and sampling benefit, but we still make a profit." The company recently did a big minis push for its Tennessee Honey liqueur, launched in 2011. At Pernod Ricard, the world's second biggest spirits and wine company, mini-bottle sales of such brands as Absolut, Jameson, Malibu, Chivas Regal, Glenlivet, Kahlua, and Seagrams Gin represent 1 percent to 2 percent of annual volume sales in the U.S., says spokesperson Jack Shea.
At neighborhood liquor stores, especially in low-income areas, mini-bottles have earned a reputation as a cheap way to drink. "I won't deny that," says John Hayes, senior vice president and global managing director of Jack Daniels. "When you have lower disposable income, when someone can't afford a $20, $25 bottle of Jack Daniels, I'm sure that happens."
One wine and liquor store owner in Queens, N.Y., says his morning minis customers include mailmen, who buy a few for the daily delivery route. Young adults also buy them before going to clubs, and others, concerned about self-restraint, look to minis for portion control, he says. Then there are golfers who mix minis with Coca-Cola on the course, and sports fans who sneak them into stadiums.
"We don't encourage that," says Hayes.