business
Small-Town Scandal Leads to Big-Time Fraud Charges
By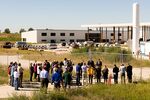 In 2010, Bruce Cole, a Beverly Hills lawyer with a dubious record as a businessman, made a lot of promises to the town of Moberly, Mo. He said he would relocate his company from China and build a state-of-the-art factory to manufacture sucralose, an artificial sweetener. He said he had a lot of connections to a lot of wealthy people in China. He said other companies would likely follow his company, Mamtek, to Missouri. Moberly officials, eager for the jobs and beguiled by the idea of investment from China, quickly issued $39 million worth of municipal bonds for Mamtek U.S. The company spent most of the money but never finished the facility. It defaulted on its bond payments in the summer of 2011 and then declared bankruptcy. Cole was never heard from again.
On Tuesday, Cole was arrested. The Missouri Attorney General has charged him with securities fraud and theft. As I reported in January, Cole had exaggerated his company's performance and prospects and seemed to have taken some of the bond money to keep his Beverly Hills home from being sold in foreclosure proceedings. Attorney General Chris Koster said in a statement that Cole instructed a bookkeeper for Mamtek U.S. to wire $700,000 to his wife, Nanette, and that she used part of that to pay off their mortgage. "Our charges also allege that, in securing the financing for the Mamtek facility in Moberly, Mr. Cole misrepresented or failed to disclose important facts that would affect an investor's assessment of the viability of Mamtek's plan to produce sucralose," Koster said in the statement. According to his office, the charge of stealing is punishable by up to 15 years in prison. The four charges of securities fraud carry a potential sentence of up to 10 years' imprisonment and up to a $1 million fine on each count. (Update, 6:15 p.m. ET:) The U.S. Securities and Exchange Commission also charged Cole with fraud related to the offer and sale of the municipal bonds. That case was filed in the U.S. District Court for the Central District of California.
According to Rudi Keller, at the Columbia Daily Tribune, Cole was arrested this morning at his new residence in Dana Point, Calif. In June, Cole sold his home on Beverly Hills' tony North Elm Drive for about $5.8 million. Bond was set at $500,000, and Koster said extradition proceedings would begin immediately.
Before it's here, it's on the Bloomberg Terminal.
LEARN MORE