Why LVMH Has Parked Billions in Belgium
Low taxes on a lot of money
By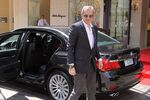 There are new twists to the Belgian saga of LVMH Chairman Bernard Arnault.
Investment vehicles associated with French luxury group LVMH Moet Hennessy Louis Vuitton have amassed assets totaling €4 billion ($5.2 billion) in neighboring Belgium, where Arnault, LVMH's principal shareholder as well as its chairman, recently applied for citizenship.
Belgian central bank records show that 12 companies and a private foundation, all connected to LVMH and based in Brussels, have more than tripled their assets since 2008. Olivier Labesse, an LVMH spokesman, says the companies are investment vehicles for $26 billion-a-year LVMH, which he says has made Belgium its "operational center of finance" in recent years to take advantage of more-favorable tax treatment there. Other European companies are doing likewise, he says. The shifting of assets to Belgium "has nothing to do" with Arnault's personal tax situation, says Labesse.
Arnault, 63—France's richest man with an estimated net worth of $25 billion—has sparked an uproar by seeking Belgian citizenship, just as President François Hollande plans to impose a 75 percent tax on incomes of more than €1 million. Belgian income and inheritance taxes are significantly lower than in France, and unlike France, Belgium does not impose a tax on personal wealth. The LVMH boss has said he will retain his French citizenship and will continue to pay French taxes.
The 12 Belgian investment companies report assets ranging from less than €100,000 to more than €2.6 billion in their most recent central bank filings. Their total holdings are just over €4 billion, up from €1.3 billion in 2008. They employ only seven people, according to the filings.
In addition to the companies, Belgian records show that in 2008, Arnault created a private foundation called Protectinvest, whose charter says it is intended to "protect the financial interests and wealth" of Arnault's heirs. The foundation now has only a few thousand euros in assets; its charter says it would be used after his death to protect his heirs' interests in Pilinvest, one of the 12 investment companies. Pilinvest's most recent central bank filing, in 2009, reported €242 million in assets. LVMH spokesman Labesse declined to answer questions about the foundation, citing a company policy against commenting on Arnault's private finances.
The LVMH investment companies, first disclosed last week by the Workers Party of Belgium, are stirring controversy in Belgium because they pay very little tax. They reported €630.4 million in profit but used deductions to reduce their tax bill to only €24.2 million since 2009, says David Pestieau, head of the Workers Party research department, who has analyzed the companies' annual reports. He calls the companies "nothing more than a post office box" that allows LVMH to evade French taxes.
A Belgian television crew on Sept. 13 visited a modest Brussels office building where most of the companies are housed. The companies were listed on a sign outside a locked door. When a reporter knocked, a voice inside replied, "No one is here."
Belgian news websites also have posted what they say are photographs of an apartment bought by Arnault in the Brussels suburb of Uccle. The town's mayor said last week that Arnault told him in late 2011 that he wanted to move to Belgium because he was unhappy with French tax policies. In order to benefit from lower Belgian tax rates, Arnault wouldn't need to be a Belgian citizen—but he would be required to have his principal residence there. The photos on Belgian news websites show an upper-middle-class apartment complex, far simpler digs than the Paris mansion where Arnault lives now.
Such disclosures only deepen the mystery over why he wants a Belgian passport. Arnault has said he is planning to invest in the country. But local investment authorities say he would gain no advantage by having citizenship. Michel Maus, a professor of fiscal law at Vrije Universiteit Brussel, speculates that Arnault might be planning to renounce his French citizenship and move to Monaco, which allows Belgian nationals to live there tax free.
Before it's here, it's on the Bloomberg Terminal.
LEARN MORE