South Korea's Startup Surge
Bucking convention, more South Korean grads are forming startups
by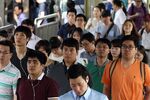 Sim Cheol Hwan is one of the countless twentysomethings around the world who have adopted Facebook founder Mark Zuckerberg as their patron saint. The 27-year-old engineering student wants to take a break from college in Seoul to make apps for mobile phones. "I don't want to get a job at a top 10 Korean company," says the Hanyang University student. "Zuckerberg's success proves that there is a lot of money to be made" in startups.
Not long ago, South Korean graduates dreamed of lifetime jobs at Samsung Electronics or one of the other chaebol, the sprawling conglomerates that dominate industries from electronics to autos to shipping. Now, inspired by the success of companies like Facebook, Twitter, and Instagram, many are starting businesses. Thousands of aspiring entrepreneurs powered an 83 percent surge in the number of South Korean technology startups in the four years through 2011, according to Korea Venture Business Assn., a private organization that supports new enterprises. "Everyone used to think if you go to a good college, that means you'll get a job at a big conglomerate," says Kim Dae Ho, professor of service management at Mokwon University. "Now people are thinking they can also start their own company and run it, rather than working for someone else. The whole environment has changed."
Young risk-takers like Sim remain a minority. Samsung was the most favored employer among South Korean job seekers, followed by Hyundai Motor, according to a March survey by SaraminHR, which operates an online job site. It's no wonder: Salaries at Samsung average 77.6 million won ($68,300) a year, according to the company's annual report, more than three times South Korea's per capita income in 2011. The nation's top 30 conglomerates employed 6.8 percent of the country's workforce last year, according to a June 6 report by the Federation of Korean Industries.
South Korea's work culture, with its emphasis on hierarchy, groupthink, and long hours at the office, may be starting to take a toll. South Koreans average 2,193 hours at work annually, the most of any of the 34 member nations in the Organization of Economic Co-operation and Development, according to 2011 OECD data. In a life satisfaction study of 32 countries undertaken by a network of social scientists called the World Values Survey Association, Korea came in 31st. Surveys by Korean research institutes have found that happiness among teenagers, who spend nights and weekends in cram schools prepping for university exams, is the lowest in the OECD. "There are more of us now who believe in the importance of finding what is meaningful for you, not what society dictates should be meaningful or good for you," says Sim.
The government has encouraged startups by simplifying procedures for new businesses seeking credit and raising loans and grants for small and midsize businesses to as much as $16.7 billion last year, according to Lee Soon Bai, an official at the Small and Medium Business Administration. The hope is that such policies will help cut youth unemployment, which was 7.3 percent in July, more than twice the national average. "Precious talent shouldn't go to waste," South Korean President Lee Myung Bak said at a July 9 meeting with tech executives.
The rapidly growing market for mobile apps is exerting a pull on young people. Revenue from mobile downloads is expected to reach $58 billion globally by 2014, a tenfold increase from 2010, according to researcher Gartner. Barriers to entry are low in this business: Besides a working knowledge of computer code, all you need is a PC.
Yoon Bahn Seok, 31, and three friends founded Darez in 2008 to offer brand analysis and consulting services, even though his industrial design background might have landed him a job at a conglomerate. He soon shifted focus to mobile apps—Darez is developing one that allows users to set up friends on blind dates. "After seeing Facebook take over Instagram, I realized there's endless market potential in developing mobile apps," he says, referring to the $1 billion deal for the photo-sharing app that closed this month. "Hearing these stories enormously motivated me," says Lim Hyung Cheol, a 21-year-old college student who last year founded Gameberry, an app-marketing firm that generates about 20 million won in revenue a month. "Right now, I'm focusing on doing bit by bit with a big vision in mind."
Even as Samsung's fall recruitment season nears, engineering student Sim has no plans to visit the company's careers website. "I don't think I can maximize my full potential at these companies," he says. "Ultimately, any person starting their own business should think big."
Before it's here, it's on the Bloomberg Terminal.
LEARN MORE