Pioneers of Eco-Friendly Laundry
Two friends washed their hands of their corporate careers and reinvented the laundromat
Damon Tabor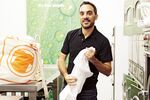 Inspiration hit Phillipe Christodoulou outside an Argentine laundry: A customer was raging about missing items, the place reeked of industrial detergents, and rattletrap machines often ruined clothes. The Australia-born 35-year-old, who had quit his headhunter job for a London investment bank and moved to Buenos Aires, knew he could do better. "I took my bag of barely cleaned clothes home, threw them on the floor, and wrote 'The Laundry Company' on a piece of paper," he says. "The rest flowed from there."
Christodoulou opened his first eco-friendly laundry in Buenos Aires in 2010. The shop's organic dry cleaning and phosphate-free detergents soon attracted a loyal following of more than 200 customers. A year later he partnered with Jean Calleja, a friend who had recently decided to leave his 10-year gig as director of communications at a New York investment bank, and opened a second shop in Manhattan's Chelsea neighborhood. The laundry features a sleek bank of energy-efficient washers and free recycled cotton laundry bags for every customer. To help offset its carbon emissions, the company planted some 300 trees in Buenos Aires. "Before, laundry was a chore," says Calleja, 44. "Now, on a very small scale, it's making the life of the people in the neighborhood better."
Eco Laundry has received franchise requests from six countries. Christodoulou and Calleja are also hashing out plans for an eco-friendly industrial laundry plant that services hotels, restaurants, and hospitals. "I always loved doing laundry," says Calleja. "I guess I was destined for this industry."
 
CHRISTODOULOU AND CALLEJA'S BEST ADVICE
 
1. Move one step closer each day. Do at least one thing to inch toward your goal every day—even if it's writing down one sentence on a piece of paper. Opportunities will pop up in places and ways you could not have imagined.
 
2. Overestimate your budget. Calculate everything you can conceivably think of to prepare your budget. Leave nothing out. Then triple it.
Before it's here, it's on the Bloomberg Terminal.
LEARN MORE