Japan's Hottest New Export Market: Japan
Its multinationals are shipping goods home from foreign plants
By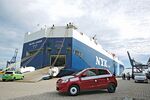 At the Shibaura Chuo auto showroom in Tokyo, the Nissan March subcompact has all the signs of Japanese quality—it's fuel-efficient, sturdy, and handles well. Except the March is made in Thailand, not Japan. "People see the sale of cars made abroad as a sign of the times, as globalization," says salesman Shiro Kakinuma. "When the new March came out here there were some articles questioning the quality of a car made in a developing country. Not anymore."
When Nissan Motor began to import foreign-made vehicles in 2010, that paved the way for Japan's biggest companies, including cosmetics seller Shiseido and electronics maker Toshiba, to follow suit. "Nissan's decision was epochal," says Masato Sase, an auto industry analyst at Deloitte Tohmatsu Consulting. "Before then, there was a tacit assumption that cars sold in Japan would be made in Japan."
According to government data, shipments home from overseas plants have more than doubled in a decade to a record ¥8.4 trillion ($107.4 billion) in 2011, including a 31 percent jump in the past two years. A stronger yen, an aging workforce, and improved worker skills overseas have eroded a century-old tenet that Japan only buys what's made in Japan. It's not just consumer brands: Industrial goods such as electrical machinery and chemicals top the list of Japan-bound Japanese products made abroad.
Shiseido next month will introduce its Za makeup, made in Taiwan and Vietnam, to Japan, the first time it will import an entire product line made overseas. Mitsubishi Motors started shipping subcompacts from its Thai factory on Aug. 31. Kubota, Japan's largest tractor manufacturer, started domestic sales of its Chinese-made rice-planting machines and U.S.-built lawn mowers last year.
Japan is following a path blazed by Western multinationals. Detroit's auto companies make cars and trucks in Mexico for the U.S. market. Western European companies, mainly German, have set up shop in Eastern Europe to ship goods back to the European Union. In Japan, apparel destined for the country's retailers has been made in China for years. Yet the Japanese have clung to the tradition of monozukuri—"making things"—in Japan more resolutely than their Western counterparts.
After a 45 percent gain in the yen against the dollar in the past five years, businesses have accelerated the move abroad to countries that offer skilled workforces and lower costs. These offshore factories have profit margins on average 2.5 to 3 times higher than domestic operations, says Jesper Koll, head of equity research at JPMorgan Securities in Tokyo. The latest shift of manufacturing, due to the yen's surge, will contribute to a loss of 4 million manufacturing and construction jobs in Japan this decade, according to the Tokyo-based Works Institute, a research arm of staffing agency Recruit.
For Japan's central bank, this trend may complicate the task of quelling deflation, which has bedeviled the economy since the 1990s. "Reverse imports make deflation even worse," says Yuqing Xing of the Asian Development Bank Institute. "If you move to overseas production, it increases room for cost reductions, and that will reduce price levels further."
Japan's consumers don't seem to mind. Nissan's March, starting at just over ¥1 million, accounts for 34 percent of the company's compacts and subcompacts sold in Japan. Its price compares well with the ¥1.6 million sticker on Nissan's locally made Juke compact. Salesman Kakinuma says sales of the March have increased since Thai production started, as companies that run fleets of vehicles cut costs. "Consumers are far less concerned about where things are made," says Robert Feldman, head of Japan economic research at Morgan Stanley in Tokyo. "A Nissan car made in Thailand is still a Nissan car."
Before it's here, it's on the Bloomberg Terminal.
LEARN MORE