Dwyane Wade on a Messy Divorce's Aftermath
The Miami Heat star and author of a new memoir on fatherhood talks about fighting the longest custody battle in Cook County (Ill.) history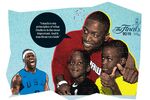 When I was young, I thought, "I want to do everything different." I wanted to be the one to break what my sister calls "the generational curse of my family." And I was able to do that when it comes to the financial side. But I wanted to do everything else different, too. In the end, I followed in my parents' footsteps: I got married on the same day my mom and dad got married, and divorced when my sons were the same age my sister and I were when our parents divorced.
I went in hoping the judge would see what was best for the kids. I didn't go in there knockin' their mother and saying, "She's a terrible mother." I just said, "At this time I believe that what's best for our kids is for them to be living under my roof." The rest of it came in what she threw at me. I stuck to my principles of what I believe is the most important. And it was those two kids. My divorce went on for about four years, and my custody battle went on for three. The team was very understanding. In Miami, we have a family-first organization. As long as my play wasn't dropping on the court, they were 100 percent on board with everything that I needed to do.
We have a lot of old guys on the team. We sit on the plane and talk finances. It's great, because when I first came to the league, it wasn't a topic of conversation. I played with Antoine Walker, and I never knew he had financial problems until two years later. [Walker filed for bankruptcy in 2010.] Now guys are afraid to go down that route. People still make the same mistakes. I understand why—I went from making $210 a month in college to roughly $100,000 every two weeks in the NBA. You can easily get in a situation where you don't have the money when you're done, because it's fast money. You're like, "Oh it'll be there." Something dramatic needs to happen for some guys to say, "I need to stop this." My divorce was that moment for me. [Wade won sole custody of his sons in March 2011.]
I would be equally supportive if my kids decided to play basketball or if they decided to do something else—as long as they did something. They can't just live off my money. My oldest son does love basketball. My youngest is at the point where he's like, "Ah, not so much." — As told to Josh Tyrangiel
Before it's here, it's on the Bloomberg Terminal.
LEARN MORE