Dressed Down at Threadless
Threadless's playful Chicago workspace
By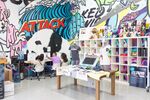 Beneath more than 200 T-shirts hanging from the rafters of shirtmaker Threadless's cavernous Chicago headquarters, workers play Ping-Pong, billiards, foosball, or Big Buck Hunter. Chief Executive Officer Tom Ryan's French bulldog Lola, wearing perhaps the only collar on the premises, roams freely. "We believe in having a fun space," Ryan says.
Employees in shorts and flip-flops toil in sun-splashed bullpens decorated with disco balls, mafia-film quotes ("Do I have your loyalty?"), a seven-foot-tall desk lamp, and a mural of dollar signs floating through an azure sky. The marketing group won a recent office design contest with paintings done by a team member, including one of George Washington entangled with an octopus. "That took the cake," Ryan says.
There's a silver Airstream trailer parked inside for meetings—the space is a converted FedEx facility—and armchairs fashioned from Cadillac tail fins. Threadless IPA, on tap, is always an optional treat. The space is also lent out for events: Chicago Mayor Rahm Emanuel swung by during his campaign, and bands Gemini Club and The Mutts have rocked its rooms.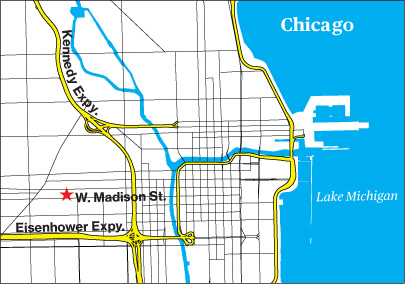 Before it's here, it's on the Bloomberg Terminal.
LEARN MORE