Bid & Ask: The Deals of the Week
Noteworthy expenditures of the week
by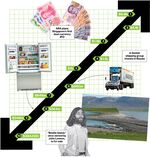 1. Chesapeake Energy will sell assets including portions of oil and natural gas fields in Texas and New Mexico for $6.9 billion.
2. In a deal doubling its crude production, Houston-based Plains Exploration & Production will acquire BP's and Royal Dutch Shell's stakes in a group of Gulf of Mexico oil fields for $6.1 billion.
3. Morgan Stanley will pay Citigroup $1.9 billion for an additional 14 percent stake in Morgan Stanley Smith Barney, their brokerage joint venture. It will pay $4.73 billion for the remaining 35 percent by 2015. The deal values Smith Barney at $13.5 billion.
4. Canada's largest security company, Garda World Security, agreed to be taken private in a $1.1 billion deal led by its founder and CEO Stéphan Crétier.
5. India's state-owned energy explorer Oil and Natural Gas Corp. will pay Hess $1 billion for a stake in Azerbaijan's largest oil fields and an associated pipeline.
6. Danish shipping group A.P. Moeller-Maersk is buying a 37.5 percent stake in Russia's No. 1 container-terminal operator for about $860 million.
7. ARA Asset Management, the property company backed by billionaire Li Ka-shing, is seeking about $649 million in the first dual-currency—yuan and Singapore dollar—IPO in Singapore, say two people with knowledge of the matter.
8. Haier Group bid $564 million for New Zealand's Fisher & Paykel Appliances Holdings, as China's No. 1 appliance maker expands globally.
9. Indian software exporter Infosys will purchase Swiss management consulting company Lodestone Holding for $349 million to diversify its business.
10. A 21-acre island off Ireland's west coast that once belonged to John Lennon is on sale for $384,000. The Beatle reportedly paid $2,700 for the property in 1967 and hoped to retire there.
Before it's here, it's on the Bloomberg Terminal.
LEARN MORE