Berlin's Hot Housing Market
In Berlin, private equity and Europe's wealthy displace artists
by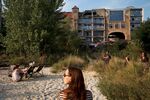 On a crisp September morning outside the graffiti-covered former Berlin department store known as Tacheles, Martin Reiter watched his fellow squatters haul their art away. Artists colonized the store shortly after the Berlin Wall fell, and though they had fended off more than a dozen eviction attempts, the 40 current occupants finally lost their studios. The real estate had become too valuable. "There is no point in fighting this any longer," says Reiter, 50, who once made motorized sculptures from stolen construction equipment. As bailiffs supervised the eviction, Reiter excoriated the private consortium of banks with claims on the property. "These zombies don't care whether people are evicted or not," he says. "To them, all that matters is the profit."

When artists first occupied Tacheles—German for "straight talk"—in 1990, the surrounding East Berlin neighborhood was a grim assembly of barren lots and crumbling facades still scarred from World War II. Today Mitte, as the area is called, is the German capital's most expensive quarter, lined with upscale restaurants, designer boutiques, and art galleries. "Twenty years ago, nobody knew what a hot spot that area would become," says Hanns-Joachim Fredrich, head of Berlin real estate at Cushman & Wakefield. Slightly larger than a Manhattan block, Tacheles will likely give way to luxury apartments and high-end shops.

While Berlin has few large companies and one of the highest unemployment rates in Germany—12 percent compared with the national rate of 6.8 percent—the city of 3.5 million has spent the years since the global financial meltdown transforming itself into Europe's up-and-coming capital. Two years ago, it overtook Rome as the third-most visited destination in Europe after London and Paris. Unlike the rest of the country, Berlin has seen its population grow in the past eight years, swelling with young creative professionals and technology entrepreneurs, who start more companies in the city each year than in any other in Germany. Now real estate investors are piling in, sending prices for residential properties surging 17 percent in the past 12 months and 31 percent in the five years ended in July, according to broker ImmobilienScout 24. Berlin apartments average about €2,000 ($2,555) per square meter, less than one-third of the going rate in Paris and less than a quarter of the London price.
Rental income from a typical Berlin apartment building provides about a 5 percent annualized return, better than many other assets as the European Central Bank keeps interest rates at record lows. "We're starting from a weak base, prices are low, and rent has a long way to go," says Pär Hakeman, the country manager for Akelius Fastigheter, a Swedish property firm that owns about 6,500 apartments in Berlin. Private equity firms Blackstone Group and Benson Elliott Capital Management have bought thousands of Berlin apartments in the past year. According to data compiled by Bloomberg, U.S. fund managers such as MFS Investment Management and Invesco have bought shares in GSW Immobilien, a property company that owns 53,000 city apartments. Wealthy families from Spain, Italy, and Greece are buying multifamily buildings to protect their savings, says analyst André Adami of market research and consulting firm BulwienGesa.

Demand is particularly high for new luxury developments, Adami says. Not far from Tacheles, a Swiss developer is building a glass-and-steel pyramid with interior designs by Philippe Starck. "You have a serious danger of a housing bubble developing in Berlin," billionaire investor George Soros said in a Berlin speech on Sept. 10. "It has a lot to do with the flight of capital and negative real interest rates." Berlin apartments are overvalued, says Steffen Sebastian, head of the Real Estate Institute at the University of Regensburg, because unlike Paris and London the city has no concentration of banks or other industries. Those companies are scattered fairly evenly across Germany's seven biggest cities. "All we have here is the government and the lobbyists," Sebastian says.
Berlin's government has traditionally been the biggest apartment owner and helped keep housing affordable. The spate of privatizations, often executed to fill budget gaps, has sparked protests. During a June property conference attended by mostly domestic investors and executives, several hundred demonstrators held up traffic in central Berlin for more than an hour, chanting in German, "Don't make your percent off our rent." In the past decade the city has sold €2 billion worth of public property to plug budget gaps, and local legislators are attempting to limit further sales.

To the artists at Tacheles, the property boom is one more step in what Reiter calls the "global capitalist coup." As the artists' supporters take turns playing mournful songs on a grand piano parked on the sidewalk, he says, "This part of the city doesn't interest us anymore. You can't make good art amidst all these boutiques and restaurants."
Before it's here, it's on the Bloomberg Terminal.
LEARN MORE