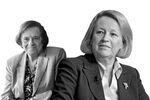 A Securities and Exchange Commission proposal that would raise standards of conduct for U.S. brokers who advise individual investors has run aground. Though the agency has been drafting a rule for almost two years, it has scheduled no action on the measure.
The proposed rule would impose a so-called fiduciary standard on brokers, requiring them to put their clients' interests above their own. Today that principle applies to registered investment advisers, while brokers are required only to promote products suitable for clients. The Dodd-Frank Act of 2010, passed in the wake of the 2008 credit crisis, instructed the SEC to consider mandating that brokers operate under a fiduciary standard as rigorous as the one that applies to investment advisers. SEC Chairman Mary Schapiro, who pushed to include the measure in Dodd-Frank, said other rules will probably take precedence in coming months. "It's important for us to get this done, but Congress handed us a lot of important things to do," she says. "We continue to advance this issue within the building and remain committed to it." The agency is still "steadily working through all the mandated rulemakings," she says.
Because the rule is not required by law, a Republican presidential victory and a resulting change in the SEC's chairmanship could mean it is dropped completely. U.S. Representative Scott Garrett, a New Jersey Republican who heads a House subcommittee that oversees the SEC, said in a December letter to Schapiro that a hearing he held produced a "consensus view that there is currently no evidentiary basis for proposing new standard-of-conduct regulations."
Barbara Roper, director of investor protection for the Consumer Federation of America, said there's rare common ground between Wall Street and consumer advocates on the need for the rule. "It shouldn't have been this hard," she says. Schapiro's facing pressure from those who want the change, and met on Sept. 11 with a group of advocates including John Bogle, founder of mutual fund company Vanguard Group. The group presented a "fiduciary declaration" signed by past regulators such as former Federal Deposit Insurance Corp. Chairman Sheila Bair, former Federal Reserve Chairman Paul Volcker, and former SEC Chairman Arthur Levitt, a board member of Bloomberg LP, parent of Bloomberg Businessweek.
A 2011 SEC report—opposed at the time by the agency's two Republican commissioners—said consumers are often baffled by the distinction between brokers and advisers. The report recommended a uniform standard "to act in the best interest of the customer without regard to the financial or other interest of the broker, dealer, or investment adviser." While it is critical of other Dodd-Frank rules, the Securities Industry and Financial Markets Assn., the Wall Street trade group, supports the change. "Sifma is very much in favor of establishing a new uniform fiduciary standard for both brokers and advisers where they're basically doing the same thing for retail customers," says Sifma General Counsel Ira Hammerman.
A court decision has contributed to the delay. In 2011, the U.S. Court of Appeals in Washington rejected an unrelated SEC rule, saying the agency failed to adequately assess the costs. Since then, the SEC has returned to the drawing board to bolster cost-benefit cases for many rules.
Tamar Frankel, a professor at Boston University's law school, says she harbors only a "very small hope" that the effort won't die. Frankel, one of the advocates who met with Schapiro, says she's concerned investors will be sold inappropriate products or overcharged without the rule. "With millions of Americans retiring, this scares me," she says.
Before it's here, it's on the Bloomberg Terminal.
LEARN MORE