Obama's Pizza Stop Creates Least Helpful Yelp Profile Ever
By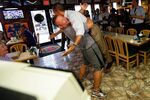 If you're looking for pizza in Fort Pierce, Fla., Yelp reviewers offer up Frank and Al's (whose sole reviewer calls it "the best in Fl!!!!!!!!!!!!!!!!!!!!!!!!!!!") and Votino's Pizza Kitchen (both Yelpers give five stars and recommend a sandwich called "the gondola"). Then there's the Big Apple Pizza & Pasta Italian Restaurant, which this morning had 2,500 reviews and counting—and the least helpful Yelp profile in history.
Big Apple had just two reviews on Yelp (both five stars and more than two years old) before President Obama made an unannounced campaign stop there Sunday. Big Apple owner Scott Van Duzer, a registered Republican who supports Obama, landed in the spotlight after his enthusiastic presidential bear hug. It didn't take long for partisans to turn Big Apple's Yelp profile into the kind of morass familiar to, um, anyone who has ever read Internet comments.
We'll spare you the tedium of excerpting the most vitriolic in this space. If that's what you're looking for, abandon all hope, ye who enter here.
Van Duzer, whose charity work helped put him on the Obama campaign's radar, pleaded for time to eat lunch when reached on his cell phone today. This reporter relented, and Van Duzer didn't answer the following call.
In a summer when Chick-fil-A and Starbucks (SBUX) became gustatory proxies for diners' views on gay marriage, perhaps it was inevitable that a routine photo op at a local business turned into an ugly troll war. It's easier to spar over who did or didn't build what than debate the actual details of complicated policy questions.
Yelp, for its part, wants the reviews unpolluted by politics, and apparently plans to intervene to clean up the mess. In an e-mailed statement, the company says the trolling violates its content guidelines:
Although most instances like these do not reach the level of media attention received by Big Apple Pizza, Yelp has proven policies in place to deal with such events: once brought to Yelp's attention, our user operations team will remove reviews determined to violate our Terms of Service and Content Guidelines, including reviews that only attack a business's perceived political ideologies.
It's unclear whether that means some Yelp staffer gets the thankless job of reading all the comments and removing those deemed unfit.
As of lunchtime, anyway, Big Apple still had its five-star rating.
Before it's here, it's on the Bloomberg Terminal.
LEARN MORE