How Did Stocks Get So High?
Indexes soar despite anemic economic growth, not to mention the fiscal cliff, Europe ...
by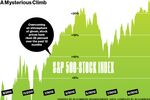 Markets are not always rational. They are rarely—what's the technical term?—bananas. But while a nearly unprecedented litany of depressing indicators should be devastating investor confidence the Standard & Poor's 500-stock index is up 25 percent over the past 12 months and 14 percent in 2012. Close to $2 trillion has been added to equity values this year, and stocks have reached levels unseen since before the fall of Lehman Brothers Holdings and Bear Stearns. "This is about the strangest market environment I've ever seen," says Donald Luskin, chief investment officer at Trend Macrolytics.
There are some strong forces propelling the market's rally. Over the long term, stock prices tend to reflect corporate earnings. While S&P 500 per-share profits may decline 1.8 percent this quarter, they will rebound 11 percent in the final three months of the year, 11 percent next year, and 12 percent in 2014, according to analysts' estimates compiled by Bloomberg, reaching record levels with every gain. Investors are also counting on help from the Federal Reserve, which is expected to start a third round of bond purchases to boost the economy. "The Fed has come out and said that things are weakening and that they're willing to act," says Gregory Peterson, managing director of investment research at Ballentine Partners. And Apple's success—the stock is up 64 percent in 2012 through Sept. 11—is having an outsize impact on the indexes and the economy. With a market value of $620 billion, Apple represents 4.8 percent of the S&P 500 and almost 13 percent of the Nasdaq Composite Index, which has surged to a 12-year high. An analysis by JPMorgan Chase calculates that sales of the company's iPhone 5, introduced on Sept. 12, could add as much as 0.5 percent to U.S. economic growth in the fourth quarter.
Impressive though that may be, the threats to the market are formidable. Chief among them is the fiscal cliff. Under a law passed last year in the heat of Washington's debt-ceiling impasse, the failure of lawmakers to agree on some mix of spending cuts and tax increases could result in $1.2 trillion in automatic cuts and accompanying tax hikes in January 2013. That combination could shave 2.9 percent off economic activity in the first half of 2013, according to the Congressional Budget Office. "These are significant risks that the market, in our view, hasn't really appreciated," said Goldman Sachs Group chief U.S. equity strategist David Kostin at a Sept. 10 conference. Luskin says that even if you assume there's a 75 percent chance a deal is struck, that means "25 percent of the time we sail off the cliff and into recession. Would you get on a plane if the pilot told you there was a 25 percent chance it would crash?"
Europe also remains a potent threat, what with Athens still needing to ratify spending cuts necessary to receive bailout funds and no guarantee that Spain, already reeling from 25 percent unemployment, will agree to more austerity in exchange for the European Central Bank's financial aid. "There's the election, and you have questions about monetary policy in the U.S.," says Jonathan Golub, the chief U.S. market strategist at UBS. "You have a situation in Europe, and no matter how good anybody is feeling about it today, it's not resolved." Golub forecasts the S&P 500 will end the year at 1,375, or 4 percent below its closing level of 1,434 on Sept. 11.
There is one wild card that could drive the market even higher in coming months. Hedge funds have missed much of the rally. From the start of the year through the end of August, the main Bloomberg hedge fund index gained 0.5 percent compared with 13 percent for the S&P 500. "Hedge funds must be sitting on large cash positions or have outsize short positions—how else to explain their underperformance?" says Jenny Van Leeuwen Harrington, chief executive officer and portfolio manager of Gilman Hill Asset Management. Money managers don't want to finish the year lagging the market so badly. If they abandon their caution and pile into stocks in a bid to catch up, that belated buying could help send indexes even higher, she says.
Individual investors also could decide to join in. They pulled money from U.S. equity mutual funds for a fifth straight year in 2011, the longest streak in data going back to 1984, according to the Investment Company Institute. So far this year, they've yanked $75 billion—and missed the party.
Before it's here, it's on the Bloomberg Terminal.
LEARN MORE