pursuits
The Kwok Brothers Who Re-Created Noah's Ark
Two evangelical brothers have built a life-size replica of Noah's Ark—and by the book
By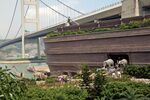 After their father died of a heart attack in 1990, Thomas and Raymond Kwok, now 60 and 59, helped expand the family business, Sun Hung Kai Properties, into Hong Kong's largest real estate developer. The evangelical Christians control a combined fortune of about $15 billion, according to the Bloomberg Billionaires Index. In July they were charged with paying $4.5 million in bribes to one of Hong Kong's former top government officials.

At a press conference, after denying the charges, Thomas invoked a higher power: "The Bible's teachings act like a beacon, guiding me through the darkness." It's a fitting image, as a lesser-known corner of the Kwok family empire is riding high: the Ma Wan theme park, whose shining attraction is a 270,000-square-foot replica of Noah's Ark. The $130 million project, which opened to the public in 2009, was part of a deal with the government of Hong Kong that allowed Sun Hung Kai to develop luxury apartments on pristine Ma Wan island.

The ark is said to be the first built to biblical specifications. According to the King James translation of Genesis, God instructed Noah: "The length of the ark shall be three hundred cubits, the breadth of it fifty cubits, and the height of it thirty cubits." Estimates vary, but the consensus is that a biblical cubit—technically, the length from the middle finger to the elbow—is 18 inches, which would mean the Kwoks' ark is spot on: 450 feet long, 75 feet wide, and 45 feet tall. God also said: "Rooms shalt thou make in the ark." There are many rooms on its five levels, including four gift shops.
Before it's here, it's on the Bloomberg Terminal.
LEARN MORE