The Debt-Free College Degree
Melba Newsome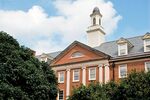 When she was six, Elaine Klaiklung emigrated from Thailand to the U.S. with her mother, a single parent who earns $20,000 a year working in a Charlotte grocery store. By graduating in the top 3 percent of her high school class, she met or surpassed the admission requirements for scores of U.S. universities, but she wished to remain in North Carolina. "I wanted to stay close to my mom," she says. "My whole life, I've only had her and she's only had me." Klaiklung applied to the University of North Carolina at Chapel Hill and Davidson College and got into both. Chapel Hill is often ranked as the best value in public education. In-state tuition for her freshman year, 2009-10, would be just $5,600 compared with $35,000 at Davidson. But Davidson made Eileen an offer she couldn't refuse.
"When I got my acceptance letter and my tuition bill, it told us that everything was mostly paid for," she recalls. "I had heard something about Davidson's no-loan policy, but it didn't make sense because it sounded too good to be true. My mom was like, 'This can't be right. We need to go talk to them.' " The admission counselor explained that, because of the Davidson Trust, the school was able to cover 100 percent of demonstrated need without loans. Her mother cried. "At the time, I felt kind of embarrassed. When we walked back to my car, she said, 'I'm so happy. I feel like I should make [the counselor] something.' "
Klaiklung, now a senior, is a member of what will be the third class at Davidson to graduate debt-free, and part of the school's ongoing experiment in how to solve the student loan mess by eliminating it. (Students can still borrow money if they feel they need more for, say, a trip to teach abroad, or other expenses.) Davidson is not the only school to remove student loans from its financial aid packages. In 2001, Princeton University became the first to replace loans with grants. Sixty percent of Princeton's Class of 2013 received financial aid, with an average grant of $36,000. Since then, Harvard, Swarthmore, Stanford, Columbia, and Vanderbilt are among the 75 or so colleges that have reduced, capped, or eliminated loans in financial aid packages for all undergraduate students. On a cost basis, this puts those private institutions on a par with in-state tuition at public colleges and universities.
All the same, Davidson stands out as an especially intriguing model. It has fewer students, about 1,900, and a much smaller endowment than the Ivy League, and because it remains devoted to the relatively expensive and exclusive 19th century ideal of the university. By its own account, its five-year-old grants program has been successful, but it remains an open question if it's sustainable or replicable.
 
 
Located about 20 miles north of Charlotte in the town of Davidson, the campus's brick buildings and 100-year-old oak trees make it seem like a New England idyll in the middle of a Southern mill town. Its Presbyterian roots are evident in patrician rules and standards that can seem quaint today. Community service is mandatory. Students are required to live on campus all four years, although juniors and seniors may seek permission to move to an off-campus apartment. Their wash is done for free at the campus laundry. Incoming students must sign the Davidson Honor Code, pledging to refrain from stealing, lying, or cheating on academic work. They also must report any honor code violations; failure to do so is itself a violation. Infractions are brought before the Honor Council where punishment is decided.
"We take it very seriously," says Tianna Butler, a senior from Salisbury, Md. "You'll see laptops on the lawn, or somebody will leave their MacBook in the library and go into the other room to take a nap. People don't steal your stuff here."
Established in 1837 as a Presbyterian manual labor school for young men, Davidson College is named for a local Revolutionary War hero, Brigadier General William Lee Davidson. A fixture on "top liberal arts colleges" lists, it has graduated 23 Rhodes Scholars and counts President Woodrow Wilson, Secretary of State Dean Rusk, late White House Press Secretary Tony Snow, novelist Patricia Cornwell, and Charlotte Mayor Anthony Foxx among its alumni. The first-year retention rate is 96 percent, 88 percent of its students graduate in four years, and about 95 percent are employed, in graduate school, or on fellowship within six months of graduation.
Davidson tuition for the 2012-13 academic year is $40,809, with an additional $11,346 for room and board. Determining how much financial aid a student receives to cover the $52,000 price tag is a complicated mix of factors, including income, assets, and the number of dependents who are in or will be attending college. Grants can include books, spending money, as well as funds to cover extracurricular activities such as community outreach or fees to take the LSAT or GRE.
Davidson first tried to curb the amount of debt its students incurred by capping loans. Students could borrow up to $4,500 a year or $18,000 over a four-year period. In 2006 an $875,000 annual grant from the $2.7 billion Duke Endowment allowed the college to lower the loan cap to $3,000 per year. (When James B. Duke established the endowment in 1924, he stipulated funding for Davidson, Duke, Johnson C. Smith, and Furman to help increase affordability and access to higher education. Since then the endowment has awarded Davidson $122.2 million.) Even so, the trustees and then-President Robert Vagt wanted to do more. "We were not getting all the kids we wanted to apply to Davidson," says Eileen Keeley, vice president for college relations. "A certain segment of the population saw Davidson's sticker price and felt like it was too expensive."
Vagt wanted to throw out the entire financial aid model by doing away with loans altogether, but doing so was complicated by an admissions policy that doesn't take financial need into consideration. "That leaves you in a more vulnerable position," says Vagt's successor Tom Ross. "If you look at need before admission, you can balance who gets in with the amount of aid money you have."
Finding a more complete solution was the main focus of a January 2007 trustees meeting. The finance team had run the numbers and determined that implementing the no-loan policy with a need-blind admission policy would cost $20 million a year and require an additional endowment of $70 million. "The reaction was 'Wow! That's a really big number,' " recalls Ross, who served on the board at the time. "Everybody believed it was the right thing, but it was a matter of balancing the financial stability of the institution with making it accessible to any student who qualified to be admitted." The vote was virtually unanimous, and the board's decision was almost immediately rewarded with an additional $15 million pledge from the Duke Endowment. The school created the Davidson Trust to replace loans with grants.
When Tom Ross left Davidson in 2011 to become president of the 17-campus University of North Carolina system, the school's commitment to financial access was part of what persuaded Carol Quillen to become its 18th president. Quillen is the first woman in the top job. The Wilmington (Del.) native earned her undergraduate degree from the University of Chicago and Ph.D. from Princeton and spent more than 20 years as a history professor at Rice University. Tall and slender, with a fresh-scrubbed face and pony tail, Quillen looks more like a grad student than the school's top administrator. Her advocacy for higher education extends beyond the institution she leads. She worries that four-year colleges are becoming less accessible and that cost is denying many talented students a bachelor's degree.
Twenty-one percent of Davidson's students are minorities—the same percentage as before the no-loan policy was implemented. What has changed is the socioeconomic makeup. Four years ago, 33 percent of Davidson's students qualified for need-based financial aid. In the 2012 school year, 45.1 percent—798 students—will receive funding from the trust. The average grant is $33,995, and awards range from $1,492 to $52,698. The total annual cost to the college—$24.5 million—exceeds the initial projection and makes fundraising an urgent priority.
Even students are doing their part. Since starting the Dinner at Davidson gala three years ago, the Student Government Association has raised $75,000 for scholarships. Senior JD Merrill traveled to New York and San Francisco to make a personal appeal to alumni for donations. "People assume that I receive money from the trust because I have fundraised so much for it," he says. "I don't. But I see the impact it has had and how my friends benefit from it."
Since establishing the trust, which currently sits at $90.5 million, institutional commitment to financial aid has more than doubled. More than 60 percent of alumni have given to the school, some very generously. Class of 1957 alumnus Ted Baker rose to chairman at Florida Rock Industries, his family's business, before it was sold to Vulcan Materials in 2007. He recently pledged $25 million to Davidson, the second-largest gift in the school's history. To keep pace with the need, the fundraising will remain aggressive, the administration says, because there is no Plan B.
 
 
"The original motivation was to assist low-income students, but it turned out to be an effective recruiting tool," notes financial aid expert Mark Kantrowitz. "The school becomes more affordable but also more competitive and harder to get into."
Kantrowitz contends that the relatively small number of low-income students, coupled with sizable endowments, should be prompting more elite schools to follow Davidson's example. "Seventy-five colleges have done this, and I estimate that as many as 300 could potentially afford to do something similar. For example, Harvard could afford to make tuition free, so they're not being as generous as they could be." Free tuition at Harvard? That may sound less outrageous when you consider that the university's endowment for fiscal year 2011 was $31.7 billion. Yale, Princeton, and Stanford have endowments of $19.3 billion, $17.1 billion, and $16.5 billion, respectively. A 2007 study from the National Association of College and University Business Officers found that while university endowments grew 21 percent that year, to a record $411.2 billion, spending remained flat at just 4.6 percent of assets.
The report prompted hearings before the U.S. Senate Committee on Finance and a caustic letter to 136 colleges with endowments of more than $500 million from Senators Max Baucus (D-Mont.) and Charles Grassley (R-Iowa). The legislators chided the schools for continuing to raise tuition while hoarding mountains of cash. Grassley suggested legislation to require schools to spend 5 percent of their assets to slow tuition increases and assist lower-income students. Private foundations already operate under such a rule. The measure went nowhere but prodded schools to raise their spending by a half percent on average.
For a brief time dozens of the nation's top colleges implemented no-loan policies. Then the 2008 recession took a toll on their investments and endowments, prompting some to pull back on their contributions. Dartmouth announced it would reintroduce loans for students with family income greater than $75,000. Williams reinstated loans for some but kept the no-loan policy for low-income students. Cornell University recently announced it would lower the eligible family income level from $75,000 to $60,000. Yale, which had been awarding aid to families as long as they could demonstrate need, has reduced it for those earning more than $130,000 a year. Following investment losses, Swarthmore College said in 2009 that it was reevaluating its no-loan packages for needier students.
Davidson appears to be swimming against the tide. Its $500 million endowment is about one-third that of other elite liberal arts schools such as Williams, Smith, Pomona, and Amherst. While the economic downturn forced a reduction in the college's operating budgets and a freeze in wages and salaries for a year, the school refused to pull back on financial aid. "We were not going to back away from the financial commitment we'd made, especially when so many students were in need," says Ed Kania, vice president of finance. In theory, replicating the Davidson model is possible, but the current economic climate in which colleges and universities are more reliant on tuition revenue makes it less probable.
"When it comes to viability, it's the size of the college endowment that matters," says Michelle Asha Cooper, president of the Institute for Higher Education Policy. "Davidson has to have strategic short- and long-term plans for funding this program and make sure they are targeting the programs to students with needs. A lot depends on the economy, the stock market, whether their donors continue to give. But Davidson seems to be taking the necessary steps."
At Davidson, at least, it appears that little to no student debt leaves graduates in less of a hurry to secure a high salary. Merrill wants to return to his Baltimore high school to teach. Butler thought she wanted to be a lawyer until she spent a semester working with the homeless. Her summer internship as a ministry fellow in a Charlotte church dedicated to social justice has her considering the clergy. Political science grad Gerard Dash already has a management development job making $70,000 with an industrial supply company in Atlanta, but he's most excited about his volunteer commitments, including organizing for the Obama reelection campaign.
And Klaiklung? "I thought I would go into marketing or business to make money, but coming here has made me want to do something more in the world," she says. "I don't want to just complain about racism or what's happening to the immigrant community without trying to change it. Davidson tells us 'we provide you with the tools. It's up to you to use them to go out and be the change you want.' The trust has made that possible."
Before it's here, it's on the Bloomberg Terminal.
LEARN MORE