The Barrier to Breaking Up the Banks
Stand-alone securities firms would lose the benefits of cheap deposits and federal backing
By and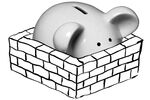 Wall Street banks are fending off calls to break up from stockholders, analysts, and industry veterans like former Citigroup Chief Executive Officer Sandy Weill, who arranged the 1998 merger of Travelers Group and Citicorp that ushered in the era of so-called universal banks. Critics say the banks are too complex to manage, are overburdened by regulation, and have trading operations that pose a risk to taxpayers because they're so big that the government would be reluctant to let them fail. One sign of investor displeasure: The stocks of Bank of America, Citigroup, Goldman Sachs Group, and Morgan Stanley all trade below liquidation value—the theoretical amount that would be left after selling all the banks' assets and paying off their liabilities.
Despite the complaints, executives of big Wall Street banks are likely to cling to the status quo, which gives them two advantages: cheap funding in the form of deposits and lower borrowing costs because investors believe the government stands behind them.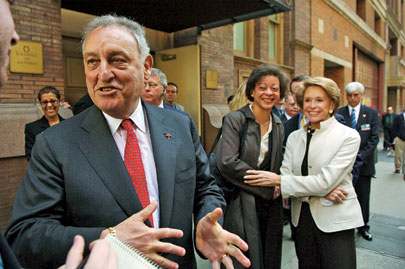 A securities firm or investment bank that didn't accept deposits and couldn't turn to the government for help in a crisis would have to pay a premium to bondholders to reflect the lack of a safety net. Jefferies Group, a securities firm that isn't part of a bank and can't turn to the Federal Reserve for help, currently pays higher interest rates to borrow in the credit markets. "If you divorce them from the mother ship, you'd also be divorcing them from the government at the same time, and that's where the subsidy is," says Cornelius Hurley, director of the Boston University Center for Finance, Law, & Policy.
Independent securities firms also would need to hold more capital as a cushion against losses, says Michael Mayo, an analyst at CLSA. That would likely hurt profitability. "If the investment banks are spun out from the universal banks, the resulting entity would likely need more capital than it does as part of the universal firm," says Mayo. "You're going to need more capital to reassure the creditors."
Dismembering today's banking conglomerates would mean restoring the model of bond-market financing used by securities firms. That model failed in 2008 with the collapse of Bear Stearns and Lehman Brothers Holdings. Merrill Lynch agreed to sell itself to Bank of America the same day that Lehman declared bankruptcy. A week later, Goldman Sachs and Morgan Stanley converted to bank holding companies to be eligible for Fed support. Without Bank of America's $1.04 trillion of deposits—about 80 percent of them federally insured, according to Jerry Dubrowski, a bank spokesman—Merrill Lynch would have to depend again on borrowing in the bond market to fund trading operations and back up derivatives contracts.
Last year's bankruptcy of MF Global Holdings taught investors that securities firms not attached to banks are riskier than they once believed. "The financial crisis has shown us that the independent investment banking model doesn't really work that well," says Kush Goel, a senior vice president and research analyst at Neuberger Berman Group.
Bank of America, JPMorgan Chase, and Goldman Sachs are safer to own than a "high-risk security" such as Jefferies, says William Larkin, a fixed-income money manager who helps oversee $500 million at Cabot Money Management. He says he doesn't believe statements by government officials and regulators that no bank is too big to fail. "When I look at companies, I think, 'What can kill the company?' And right off the bat, I say the exact opposite of what the government says. I say, 'That's a company that's too big to fail,' " he says of Bank of America. "So that protects me."
To offset the advantage large banks get from being seen as too big to fail and level the playing field, regulators want the biggest banks to hold additional capital. "A bank which is thought to be too big to fail gets an artificial subsidy in the interest rate that it can borrow at," Fed Chairman Ben Bernanke said at a Jan. 25 press conference. "And by having additional capital requirements, that tends to equalize the cost of funding to different banks, and reduces the incentives of banks to get large just to create the impression of being too big to fail."
As record-low interest rates limit returns on loans, banks have become more focused than ever on keeping their own borrowing costs down. That's led them to lean more on the cheapest form of money available: federally insured deposits. Bank of America pays about $500 million a quarter in interest for its $1 trillion of deposits, compared with about $2.5 billion for $300 billion of long-term debt, CEO Brian Moynihan said on a July 18 investor call. Eric Aboaf, treasurer of Citigroup, told a similar story to investors on a July 20 call. "We have focused on reducing our borrowing costs by substituting maturing long-term debt in the bank, which is a more expensive source of funding, with deposits, our lowest cost of funds," he said.
JPMorgan, led by Weill's former deputy Jamie Dimon, finances its operations with $1.12 trillion of deposits and $982.7 billion of market borrowing. Goldman Sachs has more than doubled its deposit base to $57 billion since 2008 and wants to raise more because it is a cheaper way to borrow money than issuing debt: It pays 2 percentage points less on three-year deposits than it does on three-year bonds, Treasurer Elizabeth Beshel Robinson said on a July 24 call.
The call to break up big banks was a surprise coming from Weill. His deal creating Citigroup required repeal of the Depression-era Glass-Steagall Act, which forced deposit-taking companies backed by government insurance to be separate from investment banks. In a July 25 interview on CNBC he indicated Glass-Steagall had the right idea. "What we should probably do," he said, "is go and split up investment banking from banking, have banks be deposit takers, have banks make commercial loans and real estate loans, have banks do something that's not going to risk the taxpayer dollars."