Pitaya: The Selling of a Superfruit
Is the obscure fruit the next pomegranate or goji berry? One ambitious juicer is betting big on it
Courtney Rubin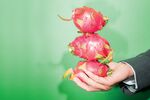 A few months ago, Eric Helms, the 42-year-old founder and chief executive officer of Juice Generation, a chain of juice and smoothie bars in New York City, wanted to display what he calls "the next big superfruit" in his stores. Having bought exclusive import rights to a year's supply of pitaya, a softball-sized fruit that grows from cacti mostly found on the side of an active volcano in southwest Nicaragua, Helms had become the only American purveyor of the fruit's pulp. But when he tried to order whole pitayas for his display, he discovered there were none around. Due to fears about fruit flies arriving in the U.S. from Central America, all pitayas had to be pulped and frozen before shipping. So after spending nearly half a million dollars for his new, marquee item, Helms had to settle for Vietnamese dragonfruits—the pitaya's Asian cousin—as doppelgängers. "It was crazy," Helms says. "But anyone who's ever been on an international flight understands why I couldn't just call up my supplier and ask him to put a few pieces of fruit in the mail."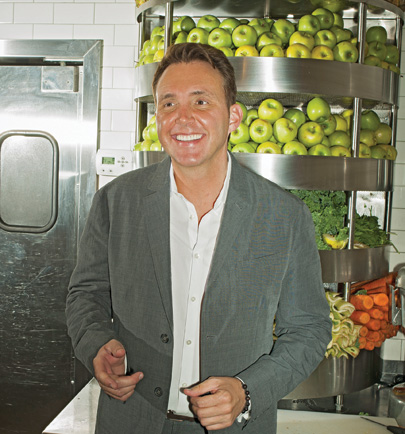 The pitaya tastes like a cross between strawberries and wheatgrass. Among other benefits, it's full of phytoalbumin, an antioxidant believed to prevent the formation of cancer-causing free radicals. David Wolfe, author of Superfoods, is a fan: "It's one of my favorite fruits of all time. It's superhigh in vitamin C and superhydrating." But it's still largely unknown, even within hard-core health circles.
"This is by far my biggest gamble," says Helms. "I'm a small business owner and I've invested a lot of money. I don't even think about it failing. I was maybe a little impulsive, but I didn't want anyone else to have it. That was mangosteen lesson number one."
Helms is referring to the last time he thought he found the next big superfruit, in 2007, when he vigorously promoted the mangosteen, a rare fruit from Thailand, in a publicity blitz that culminated in a blender-wielding appearance on the Today Show. After the TV spot drew interest, however, Helms's mangosteen suppliers were unable to deliver on the bulk orders. "We were getting customers in the door and they were leaving [because there were no mangosteens]. It was a disaster."
Once a niche industry, the "super-premium" juice business, more focused on healthy, exotic nectars than the kinds of juices purveyed by Welch's and Tropicana, is now a multibillion-dollar enterprise. Big brands have gotten in on the game—for example Coca-Cola's Odwalla, PepsiCo's Naked, and the 750-plus-outlet smoothie-bar Jamba Juice—as have thousands of small, fresh-squeezed-juice bars and chains, such as Juice Generation and the Juice Press. In 2011, Starbucks paid $30 million for Evolution Fresh, a cold-pressed juice company started by Naked founder Jimmy Rosenberg. Health-minded celebrities from Russell Simmons to Blake Lively to Gwyneth Paltrow have publicly endorsed juicing. And workplace juice cleanses have become the latest office fad, with Citigroup even offering BluePrint Cleanse, a preset, six-juice-a-day cleanse program, in some of its Manhattan cafeterias.
At the heart of this industry is the heated race for new and ever more health-promoting ingredients. On one end of this spectrum are vegetables that few would associate with refreshing juices—such as kale or celery. On the other are "superfruits," an astonishingly flexible marketing term that seems to generally refer to fruits heavy in antioxidants, but for which "there is no scientific or regulatory definition," says Jeffrey Blumberg, director of the U.S. Department of Agriculture's antioxidants research laboratory.
Just as Helms has placed his hopes on the pitaya, a Canadian grandmother recently bet her entire former wheat farm on the iron- and potassium-rich Saskatoon berry, and won a $250,000 prize on Dragons' Den, a Canadian business TV competition. Novelle International, a Florida-based health food company, has been trying since 2009 to trumpet the merits of the Chilean Maqui berry. While these superfruits tend to be advertised as nuclear blasts of health, almost any fruit qualifies. "As most natural fruits contain one or more positive nutrient attributes," says Blumberg, "any one might be considered by someone 'super' in its own way." Successful Superfruit Strategy: How to Build a Superfruit Business, an industry primer, puts it bluntly: "Superfruits are the product of a strategy, not something you find growing on a tree."
It's generally agreed the pomegranate was the first superfruit, having been pressed into the national consciousness around 2002 with the founding of POM Wonderful products. Since 2008, the ruby-hued fruit, long known for its bitter taste and unwieldiness, has been second only to the orange in forming the basis of new fruit-product launches, according to Netherlands-based Innova Market Insights, which tracks food and beverage trends in more than 70 countries. But pomegranates have been declining in popularity since 2010. That year, the Federal Trade Commission accused POM's parent company, Roll Global, of using deceptive advertising. At issue were POM's pronouncements that its juice could treat heart disease and other illnesses. In May, a judge ruled in favor of the FTC. POM claimed victory anyway, because the ruling noted that health food companies should not be held to the same standard as pharmaceutical companies.
Helms entered the business in 1999, launching Juice Generation after the health club he'd managed for years refused to let him install a juice bar. After opening his first store, he worked from open to close for the next four years. "I was a 30-year-old man in a hat and an apron, talking about health and juice with everyone who walked in the door," he says. One of those people was actress Salma Hayek, a longtime juicer. In 2008, Helms and Hayek co-founded the Cooler Cleanse juice brand.
When Helms discovered the pitaya, he wasn't climbing a volcano in Nicaragua against the backdrop of a plunging sunset. Rather, he was in a Los Angeles Whole Foods. In 2011, Helms spotted Pitaya Plus, a $2.99 blend of pitaya and mango, and tracked down the company's owner, a 34-year-old American named Chuck Casano. A 2008 MBA graduate of Madrid's Instituto de Empresa, Casano started working for a non-governmental organization in Nicaragua after failing to find a job in investment banking. It was there he first met the pitaya.
"It's like a national drink here, but like every Latino culture they put 10 pounds of sugar into it," says Casano. When Helms came calling, the size of Juice Generation's demand matched Casano's supply perfectly. Casano built a factory, and—as part of his social mission—employs only single mothers to scoop and blend the fruit. The women pour the pitaya innards into 3.5 ounce "smoothie packets," which are then frozen and shipped. In June, after five months of experimenting, Helms debuted the $8.45 Pink Pitaya Coco Blend—Thai coconut, banana, and pitaya.
Helms likens pitaya to the Brazilian açaí, which he began selling in 2000. "You have to give people what they want, but also what they should be trying," he says. So will pitaya shake up the industry? It's too early to say. Until we asked, Brian Schoenberger, a partner in New York's Liquiteria, had never heard of it. Marcus Antebi, co-owner of the Juice Press, says, "What is that? Is it a berry? An extract? I don't buy into introducing something claiming that it's the magic pill that's going to save your ass."