India's Poor Starve as Politicians Steal Their Food
Investigations of massive food scams have gone on for years, but there have been no convictions
by and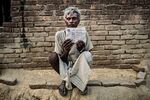 A 20-minute drive from the Indian village of Satnapur, past bone-dry fields and groups of malnourished children, there's a government storage facility overflowing with wheat and rice. The complex is five football fields long and holds 57,000 tons of food meant for some of the nation's 350 million families living below the poverty line of 50¢ a day. None of it is reaching the 106 households in Satnapur eligible for the rations. Ram Kishen, 52, half-blind and half-starved (above, holding his useless ration card), has gone 15 months without anything from the village's Fair Price Shop, which is supposed to sell the food at modest rates. It hasn't sold a lick, thanks to the biggest food heist in India's history.
Although India's budget for food and storage keeps growing, to a record $13 billion last year, most of the nation's hungry aren't being fed: About 900 million Indians eat less than the government-recommended minimums. One-fifth of adults and almost half of children younger than 5 suffer from malnourishment, in part because local food prices have spiked more than 70 percent in five years. The Food Corp. of India, a public distribution system for subsidized commodities, has been the country's primary weapon against widespread starvation since 1965, but it has failed to distribute India's bumper harvests to its poor. After accounting for food rot, only 41 percent of grains set aside for the underprivileged reached Indian households in 2005, according to a World Bank study commissioned by the government but withheld until last year. Within the state of Uttar Pradesh's Sitapur district, where Kishen's village is located, 100 percent of the food meant for the poor was stolen during a three-year period ending in 2007, according to India's Central Bureau of Investigation. Across Uttar Pradesh, as much as $14.5 billion in food went missing during the past 10 years, according to data compiled by Bloomberg News.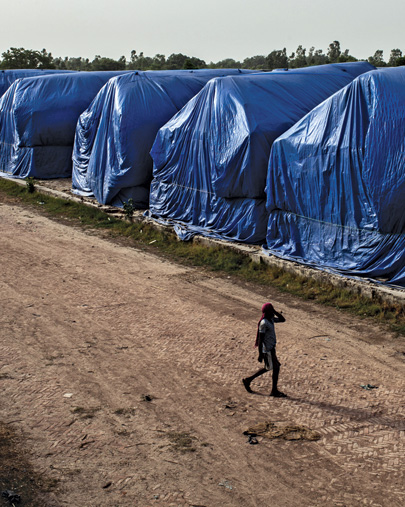 The scam was simple, says Javeed Ahmad, the CBI officer leading its investigation: Often using dummy firms, local officials paid the national government the subsidized prices for the food—as little as one-tenth of the market rate—then sold it to private companies at market prices and pocketed the difference. Poor Indians seeking rations at their local Fair Price Shop would find a locked door, Ahmad says, or be told to "buzz off" and return the following month. By 2007, this was standard practice in at least 30 of Uttar Pradesh's 71 districts, according to an affidavit filed in the high court in Allahabad, one of the biggest cities in India's most populous state.
As with many scams involving politicians in India, no one has been punished for the food heists, despite five overlapping probes, some of which date back seven years. In addition to the perennially underfunded CBI, investigators include the federal Economic Offences Wing and several divisions of state police often beholden to corrupt lawmakers. "None of these agencies have the manpower, the willpower, or even the political support needed to investigate a theft of this size, this nature, and this breadth," says Vishwanath Chaturvedi, a union leader who petitioned the government to examine food thefts in 2005.
Last December, Chaturvedi introduced the CBI to a whistle-blower who fingered Uttar Pradesh Food Minister Raja Bhaiya. In unrelated cases, Raja Bhaiya has been charged with attempted murder, kidnapping, armed robbery, and electoral fraud, though he has never been convicted. The whistle-blower, Rajiv Yadav, a former public-relations official for the food minister, has provided sworn statements to the Delhi High Court and turned over a ledger that he says he and Raja Bhaiya kept to track money collected from local officials involved in the scam, amounting to roughly $200,000 a week. According to the ledger, the food minister's wife received approximately $20 million over an 18-month period between 2005 and 2007.
"I never for one moment felt scared that I would get caught," Yadav says. "If I hadn't come forward, no one would ever have known this was happening." Though he has gone into hiding in New Delhi, he says testifying has granted him a measure of peace. Through his office, Raja Bhaiya and his wife declined to comment, though another spokesman dismissed Yadav's claims as a personal vendetta in an interview with Indian newsmagazine Tehelka. The minister, who has denied the other allegations against him in public speeches, hasn't been charged with any involvement in the food scam. He won reelection in Pratapgarh District in March.
The CBI's Ahmad says the scam's "big daddy," the first to organize the food theft on a mass scale, was longtime Uttar Pradesh legislator Om Prakash Gupta, the owner of a family-run grain trading firm. Gupta, 69, had been separately charged with, though never convicted of, dozens of crimes, including five murders, two armed robberies, and gangsterism, according to a 2009 disclosure he filed with the Election Commission of India. Last June the CBI charged Gupta with forgery and other offenses in connection with food theft from the ration program, but he suffered a fatal heart attack this past April before that trial began. His son, Anoop Gupta, who now holds his father's seat in the state assembly, says the family firm had no way of knowing the grain they bought on the open market was stolen from the poor. "I am a trader," he says. "I buy and sell thousands of tons of food a month."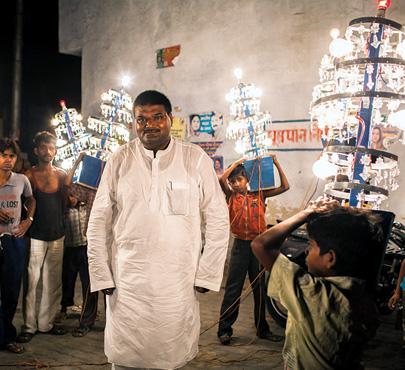 India's hungry have been denied their allotted rations in an era of record harvests and food stockpiles. Last year the central government lifted a ban on wheat exports to reduce the stores of rotting excess grain, and in June it donated 250,000 tons of wheat to Afghanistan. The nation's food surplus is starkly visible at the state storage facility a few miles from Kishen's village of Satnapur, where trucks packed with grain typically spend weeks parked outside before there is enough space inside for them to unload.
In Satnapur, the children playing in the street have prominent ribs. The village has no electricity, and the ration shop has been closed for months, residents say. Only about half of the village households that qualify for subsidized rice, wheat, sugar, and kerosene receive any, says Surbala Vaish, an activist who works with a local collective of farmers and workers. "This is the most mean-spirited, ruthlessly executed corruption, because it hits the poorest and most vulnerable in society," says Naresh Saxena, who, as a commissioner to the nation's Supreme Court, monitors hunger-based programs. "What I find even more shocking is the lack of willingness in trying to stop it."
Before it's here, it's on the Bloomberg Terminal.
LEARN MORE