Francis Ford Coppola on Making Small Films Like 'Twixt'
The director of The Godfather and Apocalypse Now on why he decided to bypass the studio system and make what he calls "student films"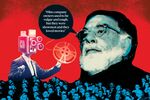 I left the film industry 16 years ago, or it left me. When newspapers started to publish the box office scores of movies, I was horrified. Those results are totally fake because they never include the promotion budget. Film company owners used to be vulgar and tough, but they were showmen and they loved movies. Today the only guy like that is probably Harvey Weinstein. Most want a stream of product to help their stock price. Giving the public what the public supposedly wants is like asking your kids what they want for dinner and they say, "Oh, we want fries." It was sort of embarrassing for me to go to these men with hat in hand and beg them, "Oh, can I do my movie?"
I was artistically frustrated. I realized I probably wouldn't make another film that cuts through commercial and creative things like Godfather or Apocalypse. It was crazy to run after the kind of success I had before. That's when I decided, "Well, I'll just do little films that I can afford." I wanted to write and direct movies and not be forced to adapt them from a bestselling book. I've now done three small films—student films, I like to call them. The latest is Twixt. I had planned to make it in Turkey. In Istanbul, I drank raki with the lawyer who was advising us about subsidies. I stumbled home to my room totally drunk and had this dream: A strange girl is leading me through the forest to a hotel where the ghosts of children play in the moonlight. It was exhilarating and I realized I live in a forest like that. I could just stay home and sleep in my own bed and make the movie. I love the strangeness of Twixt. It surprised me how personal it got.
I feel as though I've learned what I wanted to learn. I'm now working on a project that's much more ambitious. There is a kind of film I have in my heart that I have never pulled off—a piece of cinema that illuminates contemporary life but also helps me understand my own life. I can finance a big movie, especially when I look at estate tax. I have kids who are doing well. America's greatest traditional wine, Inglenook, belongs to my children. They own the rights to my movies. That's not bad. I have been married 50 years. I don't have five wives I'm supporting. As long as I can make lots of money in other businesses, I'll continue to subsidize my own work. — As told to Diane Brady
Before it's here, it's on the Bloomberg Terminal.
LEARN MORE