Enter Goophone I5, Looking a Lot Like Apple's iPhone 5
by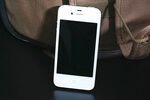 Want to get an iPhone 5 but can't handle the wait for the Apple release later this month? You might consider buying a knockoff from Goophone. This little-known Chinese company has just announced the launch of its own iPhone 5 look-alike, the Goophone I5, and says it has already patented it in China, according to Gizchina.com. It may even consider suing Apple when the Cupertino (Calif.) company starts selling its sixth-generation iPhone in China, reports the tech and gadgets website.
Goophone's Apple clone (viewable on its website) is believed to be a close copy of the iPhone 5. Like Apple's upcoming smartphone, it reportedly has a larger 4-inch screen. It also has a smaller dock connector. Apart from a small honeybee logo on the back (and, at $300, a likely cheaper price—Apple hasn't announced what it will charge for its next phone in China), it looks remarkably like the much-anticipated next-generation iPhone. But it runs on Google's Android system and is believed to have much more limited functions internally.
Goophone apparently is the smartphone business of Shenzhen Shenma Lianzhong e-Commerce. The company was founded in 2011 and has more than 500 employees, according to its website. It also sells a clone of a Samsung Galaxy smartphone. An employee who refused to identify himself hung up the phone when I asked about the Apple patent issue.
This is hardly the first time Apple or other global electronics brands, such as Sony, Philips Electronics, and Dell, have faced copycats or been sued in China. Most big electronics companies are dealing with at least a few patent or trademark suits at any one time, says He Jing, an intellectual property rights lawyer at Beijing-based ZY Partners. And Apple, for its part, in July paid $60 million to settle a trademark infringement suit involving its iPad, brought by Shenzhen-based Proview. Also in July, a Chinese chemical company said Apple's Snow Leopard operating system violates its trademark (the company's Chinese name translates as "snow leopard"). And Apple recently has been sued by another Chinese company for allegedly infringing its voice-recognition software. Calls and an e-mail to the China spokesman for Apple were not answered.
Indeed, the business of being what is called a "patent troll," or filing for a technology, design, or trademark before global brands get around to it in hopes of getting paid off by the brand, has become big business in China, according to He. The recent Apple settlement "definitely stimulated more cases. That showed some people in China another way to get rich fast," he says. "Chinese companies learn this quickly."
Chinese authorities like to tout the surging growth of patents filed in China, but that fast expansion is proving to be part of the problem. While China this year is expected to eclipse the U.S. in total number of patents filed, many of those are considered low-quality, "junk" patents. Indeed, of the 530,000 patents granted in China during the first half of this year—up 26.8 percent from a year earlier—only 107,000 were invention patents; out of 857,000 patent applications, just 258,000 were for invention patents. The remainder were either design or "utility model" patents (those related to the shape or structure of a product—not part of the U.S. patent regime), neither of which require any kind of rigorous examination process before being approved, says He.
For its part, China continues to push the rapid growth of new patents by providing cheap credit and other preferential policies to facilitate new patent registration by companies and individuals. And that's likely to continue, as Beijing has set a goal of receiving 2 million patent applications per year by 2015. "Behind the patents are millions of inventors involved in technology research," said State Intellectual Property Office Commissioner Tian Lipu at a July 16 ceremony in Beijing commemorating the awarding of China's 1 millionth invention patent. They "contribute to improving China's innovation capacity and the country's change to an innovation-driven country."
The European Union Chamber of Commerce in China, which represents more than 1,700 European companies operating in the country, pointed to the downside of that growth in its paper released on Sept. 6:
Trademark squatting is becoming big business in China as Chinese companies and individuals understand the "first to file" system. They target foreign trademarks that are not yet registered in China but have the potential to be, and pre-emptively file those trademarks in their own name, thus blocking the possible entry of the original trademark owner in the Chinese market.
These filers hope that when the foreign rights holder realizes that they are unable to register and exploit their trademark in China they will approach them to negotiate a possible purchase.
Before it's here, it's on the Bloomberg Terminal.
LEARN MORE