California's Job Growth Outpaces Texas's
A sign that California may be recovering faster than Texas
By and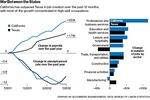 In April 2011, a group of 11 California state officials traveled to Austin to see what they could learn from Texas. The state had added 100,000 more jobs than California during the previous 12 months, and its 8 percent unemployment rate was nearly 4 percentage points lower than California's.

Less than a year and a half later, the Golden State is ahead. California added 365,100 nonfarm jobs in the year ending in July, a 2.6 percent increase and the state's largest 12-month gain since 2000. That beats every other state, including Texas, which added 222,500 jobs over the past year. The bulk of California's new jobs came from its traditional sources: construction, information technology, entertainment. Robust exports led to hiring at ports in the Bay Area and Southern California. "The past year confirms what most California economists knew all along, which is that we went through the recession with our core economic base undamaged," says Steve Levy, director and senior economist at the Center for Continuing Study of the California Economy.
California still has the country's third-highest unemployment rate, at 10.7 percent, compared with Texas's 7.2 percent. And although job growth in California has surged ahead recently, Texas has outpaced it in 18 of the past 24 months. "Texas is still the model for job creation and economic growth in this country," says Josh Havens, a spokesman for Republican Governor Rick Perry. The state has a better credit rating than California, meaning it can borrow at lower rates. In August, Texas sold $9.8 billion worth of one-year notes at 0.23 percent, while California paid 0.33 percent and 0.43 percent on $10 billion of short-term notes.
California has overtaken Texas in the jobs race partially because of cuts the Lone Star State made this year in its public workforce. In 2009 and 2010, Texas lawmakers avoided slashing the government payroll in part by plugging budgetary holes with federal stimulus dollars. Facing an estimated $20 billion deficit last year, Governor Perry signed a two-year budget that slashed state spending, including a $5 billion cut in funding for public education. Over the past year, Texas has shed 36,000 government jobs, a 2 percent drop. The state's unemployment rate started to rise in June.

The competition for jobs between the two most populous states pits traditionally liberal and conservative economic policies against each other. The recent change in fortunes, liberals say, runs counter to the conservative argument that lower taxes and fewer regulations lead to job growth. "What these new figures do is drive a stake through these weak Republican talking points," says Gil Duran, a spokesman for California Governor Jerry Brown, a Democrat. California has the country's highest sales tax, at 7.25 percent. That could rise to 7.5 percent if voters approve a November ballot initiative. Voters will also decide whether to raise California's income tax rate for those making $1 million or more, from 10.3 percent to 13.3 percent. Texas has no income tax; most of the state's revenue comes from a 6.25 percent sales tax.
California Lieutenant Governor Gavin Newsom, one of two Democrats who traveled to Austin last year, says California still has big problems, such as negative equity on 2 million homes in the state's Central Valley. "It's good to be on the other side of bragging rights in terms of our competitive position with Texas," he says. "But we need to be cautious about reading too much into that."
BOTTOM LINE -
The bottom line: California is beating Texas in job growth, though at 10.7 percent, its unemployment rate remains the third-highest in the U.S.
Before it's here, it's on the Bloomberg Terminal.
LEARN MORE