Bloomberg View: South Africa's Brewing Class War
Without reform, South Africa risks wasting its most precious asset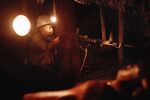 With the world's largest reserves of more than a dozen minerals, South Africa is not about to run out of riches. Yet the unrest rumbling through its mining industry reflects the deepening failure of Africa's largest economy, almost two decades after the end of apartheid, to tap its natural wealth for the lasting benefit of all its citizens.
South Africa's mining industry, which generates nearly one-tenth of its gross domestic product and half its foreign exchange and provides about 500,000 jobs, has been hit hard by slowing demand from China and Europe. (The price of platinum, for example, which is used in catalytic converters for cars, slumped with sluggish auto sales in Europe.) But the country's economic problems go well beyond that. Unemployment, now at 25 percent, has not dipped below 22 percent since 2000; the level of inequality, as measured by South Africa's Gini coefficient, is worse now than at the end of apartheid.
To the credit of South Africa's leaders, millions more South Africans now have clean water and electricity and are living above the poverty line. Still, giving out welfare grants (which go to more than 15 million people, or nearly one-third of the population) and government jobs (more than 20 percent of the workforce, far outstripping the country's emerging market peers) is an expensive anti-poverty strategy with diminishing returns.
A better approach would be to give more South Africans a chance to work for a living wage. A subsidy for young workers in new jobs would be a good place to start, though the idea is stalled by opposition from labor unions, which fear the displacement of their workers. Another strategy would be to channel state procurement purchases away from the big, established companies that dominate the economy and toward newer small and medium enterprises. A third idea would be to tackle one of apartheid's most stubborn legacies—the segregation of Africans in remote townships—by providing a transportation subsidy to enable people to commute to where the jobs are.
Stubborn inequality is a problem that South Africa shares with much of the rest of the world. One of the best ways to reduce it would be to invest more in the country's educational system: One survey ranks South Africa's primary school system 127th out of 142 countries, below that of Mali. That is tough, long-term pick-and-shovel work—much less dangerous than working South Africa's deep mines, to be sure, but even more essential to tapping the country's single greatest resource.
Before it's here, it's on the Bloomberg Terminal.
LEARN MORE